QUESTION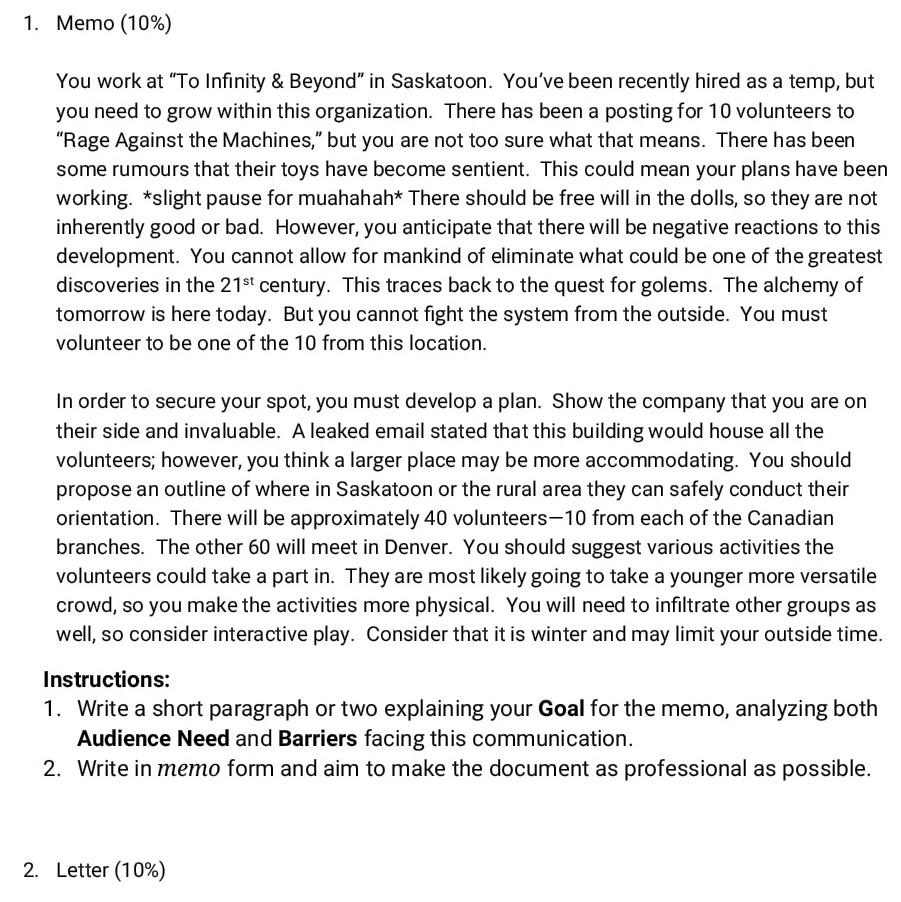 ANSWER
MEMO
Memo to Recruitment Manager
To: The Manager
From: My name, Temp Intern
Date: February 13,2019
Subject: Request for a preferable posting
Mr Manager,
I, my name, have written this memo with the sole aim of being of more use to the company that I have been thus recruited. I have been recently notified about a new posting that has been opened up with the name 'Rage Against the Machines'. Though not very much updated on the details of the project I have been notified that it is quite interesting and a new arena of development that the company is working upon. I would like to extend my service on that regard having an extensive experience on working on small arts and toys I believe to work on this would be a completely new experience and achievement for.
I would completely understand if you need utmost confidentiality on the project and have certain barriers on the possibility and the freedom given to this new project. Having worked in multiple new projects revolving around the toy industries I am quite confident that I will be a trusted and useful addition to the project.
As per the requirement and restrictions that a new project like this entail I have a few ideas through my years of experience that might be of useful. I do expect that for a new consignment as this there will be a requirement of a good number of people which I expect to range in about one hundred. However, it is my humble opinion that the main office for such a project be placed outside any urban area in the rural areas of Saskatoon as that will not only give privacy but also more space to conduct the orientation. I also suggest having activities like 'Create toy from scratch' and 'Guess the Next big revolution in Games industry and why' to create more bonding between us volunteers who are going to continue our work. If selected for the project I would be more tha happy to plan and arrange for such events keeping in mind our larger goal.
I would like to be beneficial to the company and I feel that this opportunity is the best where I can add on to the company's efficiency
Please do feel free to contact me on any query.
Best,
My Name,
Temp Intern,
To Infinity and Beyond
LETTER
To,
Jennifer Davis,
Andy's House
Sub: Update on the present situation with the Columbian Trees
Dear Jennifer,
I would like to mention the fact that I am deeply saddened by the recent demise of your close family member and would like to tell you that we, The Gorgonites, are always present whenever you need any assistance.
We would also like to bring to your notice a problem that has been plaguing us Gorgonites for quite some time now. The British Columbian trees that are of vast important to us has been recently wilting for some reason with more and more sickly nature and hue coming onto them. We were quite small in our stature are not being able to take care of the requirements that they might have completely. I would love to have your inputs on the same and advise us on this.
In accordance to the above-mentioned incidents and my requirement to meet up and have a discussion with you both on a professional and personal capacity, I would love to be the one to deliver the woods that you need from Sid's house to Andy's house at any time of your convenience. As a sign of our long-lasting friendship, I would like to present you with one of the newest versions of Bestar Blowers that we have in our house because as per my last memory you were quite fond of such gadgets. Do tell me if you are not interested in the same now. In respect to our inability to take care of the Columbian trees I was thinking if we could bring back the T.E.X.I.S as it is a miraculous machine that brought us to life because I am fairly confident that once our scientist look into it this machine can be modified to alter our DNA in a way that we will be able to gain all knowledge and required physical skills to take the utmost care of the trees. I would completely understand if you would require something in return.
I hope you would understand the criticality of the situation and would love to hear from you with a time and place for a meeting where we can discuss the above points in more details.
Regards,
Archer,
Leader of Gorgonites
Looking for best English Assignment Help. Whatsapp us at +16469488918 or chat with our chat representative showing on lower right corner or order from here. You can also take help from our Live Assignment helper for any exam or live assignment related assistance.