QUESTION
Assignment on AMC Theatres
Brief overview of the financial position and capability of AMC.

Explain AMC's position related to its competitors.
Describe how AMC can improve its financials if applicable.

Brief overview of AMC's market position related to its competitors.

Explain AMC's market strengths and weaknesses.
Describe how AMC can improve its market position, increase market share and better promote its products and services.

Brief description of management and how the management team contributes to AMC's success.

Make recommendations about whether AMC should provide incentives to make management more effective and explain what some of the potential incentives.

Brief description of AMC's technological capabilities

Describe how technology contributes to the success of AMC.
ANSWER
AMC Theatres
Contents
Introduction
Financial Position and Capability
Market Position
Management Team
Technological Capabilities
References
Introduction
AMC (American Multi-Chain) Theatre is a globally renowned movie theatre chain, with its headquarter located in Kansas, USA. It was founded in 1920, and has been renamed a few times since then such as Durwood Theatres, American Royal Cinema, etc. It has the largest share of the American theatre market. As the largest movie exhibition company of the world, it operates among the most productive theatres globally. Approximately 1000 theatres and 11000 screens are operated worldwide by the AMC Theatres group. Their long-lasting history has resulted in a large no of loyal customers across the world, who have been getting attracted by the innovative introductions in the theatre systems by AMC Theatres.
Financial Position and Capability
AMC Theatres has been a profitable and financially stable company with a balanced capital allocation strategy. Their theatrical exhibition revenues are generated mainly from the box office admissions and food & beverage sales in the theatres. Rest of their revenues are generated from the ancillary sources such as on-screen advertising, online ticketing fees, theatre auditorium rentals, fees earned from customer loyalty programs, etc.
For understanding their current financial position and capability, we have taken the screenshots of their balance sheet over the last 4 years, from their recent investors' presentation pitch. There is a screenshot of the balance sheet of AMC Theatres for the last 4 years, which has been shown in the next page. From the balance sheet, we can see that the company has increased its working capital over the last two years in terms of cash and cash equivalents. They have not kept any asset for sale in the year 2018, as they are trying to build a network architecture around their customers. Their corporate borrowings have increased drastically over the two years, which is subject to their acquisition and expansion in terms of screens. AMC Group has acquired Carmike Cinemas, UCI & Odeon Cinema Group, and Nordic Cinema Group in the last 2-3 years, which has given it huge support in covering Non-American regions specifically. From the below graph, we can see the drastic increment in the total no of screens over the last 2 years. They have been focusing these days on expansion and acquisition of other cinema screens, which can help them achieve their primary goal.

The stockholder's equity has also dropped down in the year 2018, which can be a strategy for the company to reduce their paid-in capital and further boost the infrastructural development.
Expansion and execution have been AMC's one of the three primary strategies in creating value for the customer base. Following their balanced capital allocation strategy, they have maintained net capex of around $450 to $500 million and around $48 million of shares were repurchased in the year of 2017. They have reduced capital expenditures in 2018 and landlord contributions have continued for them in USA and in Europe. Approximately 11 million shares of NCM stock has been sold in the year 2018 in their $231 million monetization process of non-strategic assets.
While analysing their income statement of the last 4 years, it can be seen that their equity loss of non-consolidated earnings in 2017 was the main reason behind their excessive net loss in that year. Unrealized foreign currency adjustment has been increased this year due to the remaining borrowings for the acquisition, and it has affected the overall net earnings, which has shifted from a net loss of $359 million in 2017 to $14.4 net loss in the year 2018.
Their financial position tells us that they have already affected their balance sheet in acquiring screens and expanding their services. Now, they need to continue their operations and increase their positive cash flows from operating activities and reduce their negative cash flow from investing activities ($959 million in 2017 and $317 million in 2018). This would help them continue their market leadership and maintain a positive balance sheet and income statement at the same time.
Market Position
AMC Theatres operates in 16 countries with an approximate annual attendance of 344 million individuals. It is well known for its leadership in providing premium customer service and their commitment towards delivering a premium movie-watching experience with superior comfort and convenience to customers, henceforth resulting in a greater customer loyalty towards the company. It follows a universally deployable strategy with a three-pronged approach of Enhance (Increasing the customer experience), Engage (Interacting with guests through world-class marketing and promotion), and Expand & Execute (Operate globally).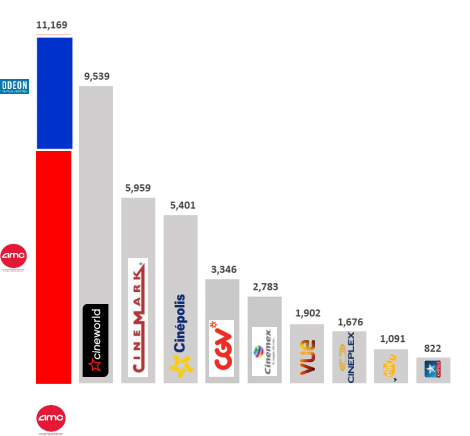 We can see that the AMC Entertainment has the largest no of screens in the world, and all competitors but Cineworld lie far behind AMC in terms of no of screens and theatres.
The company's long history and a diversified portfolio have designed its success story over the years. They have been able to create a unique brand preference for their customers by providing them better theatre experience, which started with basic innovations such as installing lounge chairs in the theatres, getting a liquor license, and it moved on to introduce Dine-in theatres with an upgraded menu system, MacGuffins Bars, Coca-Cola Freestyle machines, etc.
Some of the factors which differentiate AMC from its competitors are –
Diverse, Affluent, and Highly Productive Theatres – It has a market share of around 36% in the top three metropolitan markets of the United States. Carmike theatres cover mostly suburban and rural markets, whereas Nordic theatres cover mid-sized cities, and AMC & Odeon Theatres cover the major metropolitan cities, which help the AMC Entertainment Group in diversifying their footprints in all geographic areas.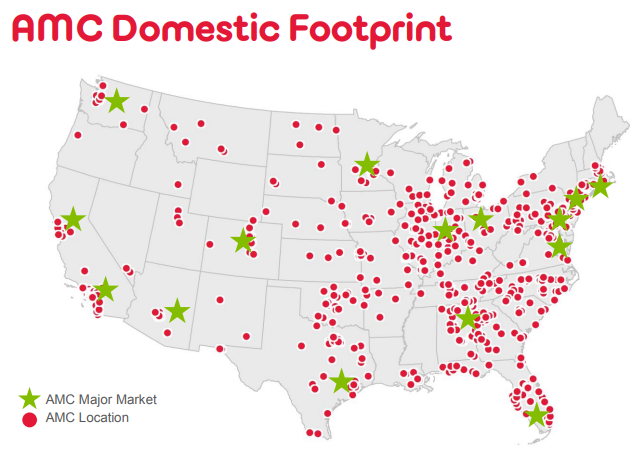 Premium Sight and Sound Quality – They have 3D capability in all theatres, along with fully upgraded digital projection and high-quality resolution.
Customer Loyalty Programs – They have introduced many customer loyalty programs such as AMC Stubs membership program for regular viewers and it has more than 12 million members. Guests are also provided reward points for gaining their loyalty.
Exclusive Food and Beverage System – The company has a total of 28 Dine-in Theatres, which offer dinner with a full menu and seat-side service. Their MacGuffins bars provide beer, wine, and cocktail servings in around 290 locations.
The company has however some of the shortcomings, which they need to work upon. They have been heavily relying on the US industry and Hollywood for their earnings. Though the cinema industry has been on an upward trend, the situation can change at any time. The increasing demand of on-demand streaming services these days pose a great threat to the company, as their market can be affected by the changing consumer preferences. Their premium pricing strategy needs to be changed if they want to become sustainable in a digital-driven modern world. AMC's direct competitors are not that big a threat, as its indirect competitors are. For example, Netflix has been on an exponentially increasing trend. It's full month's subscription is almost equivalent to an average U.S Theatre ticket price. They need to continue their strategy of target programming and customer experience driven marketing promotion for improving their market share and sustaining their business for a long time.
They can develop a marketing plan to drive growth, which could consist of the below mentioned steps –
Re-launching of the AMC Website and App – It would help in changing the customer perception about the brand by providing them a more graphically rich interface with more robust content.
Re-launching of the Stubs program – They can relaunch a new free loyalty tier based on the location (metropolitan, urban, suburban, and rural) and modified paid tier. It would help in proper segregation of customers based on their purchasing power and behaviour.
Modify the pricing strategy – The company has recently introduced their first pricing department in history. They can now introduce surge pricing along with additional pricing strategy for the collective content and watching.
Segmented Naming of theatres – They should continue with their strategy of segmenting their theatres as AMC Theatres, AMC Dine-in Theatres, and AMC Classic Theatres based on the services provided by the company.
Management Team
The leadership and management team of AMC Theatres have always been focused on providing best choices for the customers for watching a movie and improving their experience. It began with Stanley Durwood, who realized the limitation of one screen per building and introduced several auditoriums per building, modifying the name of the company as American Multi-Cinema Theatres. Soon after this, the company never turned back and was backed by both shareholders and management team for moving towards being a global leader.
The senior management team of AMC Theatres, led by Adam Aaron, has expressed their intention and goal of transforming the movie-going experience from a commodity type of service to a differentiated entertainment experience. The team consists of several long-tenured leaders and managers with expertise in real estate, finance, and operations. This team has delivered excellent results for the company in achieving the operational excellence, innovative theatrical exhibitions, creative marketing & promotions, and successfully providing highly satisfied services for the customers.
The management team has been well aligned with the corporate strategy of the firm and they have been able to create a conducive workplace for collaboration and teamwork. The team always strives to make the customers feel special at the theatres by creating particular events. The company has followed employment agreement approach for the executive positions, which includes annual salary, a defined bonus, and a severance benefit for the case of their employment termination without any cause.
The below given picture gives an idea of the incentives for the senior management level, which is based upon a percentage of their salary. Rest of the lower management level are not provided higher percentages of incentives, which can affect their performance due to lower payouts.

Technological Capabilities
AMC Theatres have always been equipped with world-class amenities and premium quality services, some of which include power recliners, plush, AMC Dine-in theatres, and their Dolby Sound system along with high quality resolution video. The company has introduced first ever multiplex theatre in the world, and then it moved on to introduce several other innovations such as stadium seating facility, the armchair cup holder, and the first ever dedicated rewards program in the cinema industry.
Their technological capabilities have been the trend setter over the years rather than the follower, and this is why, they have been the market leader over the years. They co-founded the online ticketing services for a movie-goer, which was one of the cutting edges of the innovation in this industry. A circuit-wide gift card system was introduced by the company for improving customer loyalty and acquiring larger customer base.
AMC Theatres have quickened their pace of theatre innovation deployment, as their one of the main strategies of enhancing the customer experience. The below given picture gives an idea of the changed sitting system in their theatres. Currently, they are having around 3000 screens with recliner seats, which has been announced to be increased to 3700 screens at the end of 2019.

Following their omni-channel strategy (online, mobile, and theatre) for the customers, the company has recently introduced an all-in-one kiosk system for enhancing their ticket purchasing experience. This system would be a portrait multi-touch screen along with a thermal printer, a barcode and QR Code scanner, and a mag card reader for payments and loyalty program services.
AMC Theatres have partnered with some data analytics companies for launching their data-driven content marketing strategies, in which they would promote and design compelling content for driving ticket sales and then use the data to analyse and trace the purchasing behaviour of the customers. They have used Social Media and SEO for event tracking and developing strategies with the help of Google Analytics for promoting their content and films.
They have partnered with IMAX for Premium Large Format (PLF) facility & laser services, and Dolby Cinema for their sound systems, HDR Laser, and power recliners.
They have a dedicated technology platform in their Theatre Support Center, which provides the granular level data of customers and screens through real-time monitoring of AMC screens present all over the world.
References
Dave McNary, 2019 Feb 27, AMC Theatres Subscription Service Stubs A-List Hits 700,000 Subscribers, Variety
Ryan Noonan, 2019 Jan 17, AMC Theatres Starts 2019 by Crossing More Than 18 Million AMC Stubs Member Households, Business Wire
Dalvin Brown, 2018 Jun 20, AMC Theatres takes on MoviePass with new movie ticket program, USA Today
Herb Scribner, 2019 Jan 24, AMC Theatres, Regal Cinemas say no to nominee 'Roma' shows ahead of Oscars, Deseret News
AMC Team, 2018 Mar 01, Annual Report of AMC Entertainment Holdings, Inc. (AMC), Seeking Alpha
Joshua Gershman, 2015 Apr 09, AMC Theatres and Dolby Laboratories to Launch Dolby Cinema at AMC Prime, Dolby Investor Relations News Release
Robert Harrington, 2016 Dec 05, SWOT Analysis: AMC Entertainment, Value Line
Megan Trout, 2017 Feb 02, AMC Theatres: Remaining Relevant in the Digital Age, Digital Innovation and Transformation HBS
Bob Strauss, 2018 Jun 20, AMC Theatres' new A-List program could be the next evolution of what MoviePass started, Daily News
AMC Relations Team, 2018 May 01, Investor Presentation Pitch, AMC Theatres website
Patricia Hernandez, 2018 Jun 20, AMC is launching a MoviePass-like subscription service, The Verge
Patton Spencer, 2017 Jul 06, AMC Theatres to Open a State-of-the-Art 10 Screen Movie Theatre at Tech Ridge in Austin Texas, Celluloid Junkie Wire
Charles Ervine, 2018 May 19, AMC Theatres Experience the difference, Kiosk Industry
Bryan K. Chavez, 2017 Dec 22, AMC Theatres' loyalty program Stubs offers two levels with rewards and perks, Livingonthecheap.com
Looking for best Strategy Assignment help. Whatsapp us at +16469488918 or chat with our chat representative showing on lower right corner or order from here. You can also take help from our Live Assignment helper for any exam or live assignment related assistance