QUESTION
1) What are business ethics, why they are important in contemporary business and what is the linkage with corporate governance? Choose an example from the corporate world where business ethics and corporate governance failures lead to corporate failures and explain why this has happened (50 points).
2) Locate the corporate governance information and report of the Uniliver plc (UK & Ireland). Answer the following questions:
a) Describe the structure of the board of directors. Link your answer to the relevant theory (25 points)
b) Explain how the principles of good corporate governance are ensured (25 points).
Need 8-10 refernces with intext in Harvard format.
1500 Words
BUSINESS ETHICS
Table of Contents
Introduction
1. Explanation of business ethics
Importance of business ethics in contemporary business
Linkage of ethics with corporate governance
2. Information of corporate governance
Structure of board of directors (Unilever plc)
Principles of good corporate governance
Conclusion
Reference list
Appendix: Board of directors of Unilever Plc
Introduction
Business ethics is a form of applied ethics that is helpful to examine the principles and various morals of the organizations. Basically proper maintenance of business ethics within an organization helps to maintain the conduct of business as well as the individuals. In the following part, the explanation on business ethics and the reason for its necessity for contemporary business process as well as information on board of governance of Unilever plc are answered.
1. Explanation of business ethics
Business ethics are helpful to understand the moral or ethical problems that arise within a business organization. As mentioned by Boatright (2017, p.40), the business ethics mainly refer to contemporary organizational standards, principles, various values and behaviours of individuals.
Unilever is basically a large corporation having over 500 firms worldwide. It focuses on serving the customers with varieties of food, beverages, cleaning agents, and beauty and personal care products. The corporate management of this organization focuses on maintaining their business ethics for having a huge amount of money as annual profit (Unilever.co.uk, 2019).
Importance of business ethics in contemporary business
Maintenance of proper ethics is important for developing the business within an organization. In words of Cuilla et al. (2018, p.3), maintain business ethics helps to take strategic decisions for developing the culture of the company. The ethical behaviour as well as the social responsibility is necessary for bringing benefits to a business. Business ethics can be helpful in following ways-
Attract a large number of customers

Attracting more employees by reducing the recruitment costs

Attracting investors by keeping the company's share price high

Protecting the business from takeover.
Figure 1: Types of business ethics
(Source: Influenced by Marques, 2016, p.281)
The corporate governance of Unilever fails to establish proper structure for meeting the needs of the people. On a larger scale it is regarded as the responsibilities of the shareholders to put their personal agenda before the investors. As a leading company, Unilever has suffered financial problems and public relation damage due to application of Polman's disastrous leadership (Unilever.co.uk, 2019). In this respect, it has been said that lack of honesty, trustworthiness, loyalty as well as fairness of the corporate governance play great role in decreasing the development of organizational structure. Moreover, proper leadership quality and reputation of the organization are the two critical factors for maintaining proper ethics within the organization (Goodpaster, 2015, p.4).
At present, the Unilever fails to meet their business goals due to their inappropriate pricing strategy. The corporate governance has implemented high pricing strategy for attaining a huge amount of profit, but it affects negatively by decreasing their customer experiences. The company faces a strong competitive environment due to high price of commodities and loyalty of the corporate managers. The customers of Unilever from UK are more careful about their spending after Brexit. Hence, lack of loyalty and fairness within organization cause a great failure of the corporate governance (Unilever.co.uk, 2019).
As stated some well established organizations are concerned with maximization of their profit. It leads to implement of unethical business policies in contemporary business environment. Thereby, it is essential that the corporate bodies of an organization need to give importance as well as analyse the customers' position for developing the business process (Müller et al. 2016, p.10).
Linkage of ethics with corporate governance
Corporate governance is a system or combinations of system that is formed for designing and guiding a company. Generally the governance focuses on developing the interest among the stakeholders, serving the suppliers, customers as well as the employees in a strategic manner by ensuring management accountability, integrity as well as transparency (Pearson, 2017, p.113). A number of business ethics such as loyalty, fairness, accountability, moral values, and trustworthiness are helpful for a corporate governance to keep the organizational structure steady. In case of Unilever the governance fails to meet the objectives as they focus more on attaining huge profit without thinking about the benefit of the customers. As described by Pullen and Rhodes (2015, p.161), the corporate governance of an organization maintains the business ethics for following purposes-
To provide proper scopes to the customers for dealing with moral complexities

To make effective decisions for running the business process

To analyse the customer demand before producing a product
Thus the corporate governance of Unilever emphasizes on the ownership style, control and accountability of the concerned company (Unilever.co.uk, 2019).
Figure 2: Purposes for maintaining business ethics
(Source: Influenced by Müller et al. 2016, p.11)
Efficiency of corporate governance helps to maintain a steady relationship between the stakeholders and loyal accountability helps to take critical decisions and focuses on development of business procedures. Good corporate governance begins with company's own internal practices and ensures the long term strategic objectives and plans of the organization (Cuilla et al. 2018, p.9). As it is seen in case of Unilever that the corporate governance is facing a critical problem related to their sustainability. Lack of strategic planning, lack of long term commitment and lack of social benefits are playing great roles in decreasing the growth of their business process (Unilever.co.uk, 2019).
In the view of Marques (2016, p.282), a well constructed governance structure influences a company's competitiveness. Transparency of activities leads to representation of moral and ethical framework to take strategic decisions for developing the values of companies performances. Thus, in turn, the corporate governance of Unilever faces a critical problem related to development of customer relationship and supply chain disruption. The governance fails to form a strong business background due to incorporation of high pricing strategy (Unilever.co.uk, 2019).
2. Information of corporate governance
Good corporate governance is a vital factor for maintaining the integrity and efficiency of financial markets. As opined by Vitell et al. (2016, p.150), poor efficiency of corporate governance weakens a company's potentiality. In case of a well governed company, they can outperform other companies and can be able to attract different investors. In case of any type of developing organization the corporate governance systems have an efficient board of directors. Similarly the Unilever Plc has also a strong board of directors.
Structure of board of directors (Unilever plc)
The Unilever Plc has a strong board of directors. The operational model of the organization focuses on designing the business structure for making effective and faster decisions. The persons who are regarded as the chief of board of directors are named as follows-
Designation

Names of the persons

Chief executive officer

Alan Jope

Paul Polman

Chief financial officer

Graeme Pitkethly

Chairman

Dr Marijn Dekkers

Senior independent director

Professor youngme Moon

Non executive director

Nils Anderson

Laura cha

Andrea Jung

Mary Ma

John Riston

Chief R&D officer

David Blanchard

Chief supply chain officer

Marc Engel

President

Kees Kruythoff

Chief HR officer

Leena Nair

President, foods and refreshment

Nitin Paranjpe
Table 1: Board of directors of Unilever Plc
(Source: Unilever.co.uk, 2019)
The board of directors work simultaneously to make strategic decisions for developing their business process. The persons holding the respectable position in Unilever forms some kind of committee such as audit committee, compensation committee, corporate responsibility committee and the managing committee (Unilever.co.uk, 2019). Various duties are performed by these committees.
| | |
| --- | --- |
| Committees | Description |
| Audit committee | It is formed of three non executive officers and assists the boards to manage risks and performance of the company. |
| Compensation committee | They are involved in analysing the remuneration and the performances of Unilever leadership executive. |
| Corporate responsibility committee | Involved in planning for succession |
| Managing committee | They mainly focus on financial analysis, risk management and the sustainability of the organization. |
Table 2: Committees within Unilever
(Source: Unilever.co.uk, 2019)
Thereby, the hierarchical organization structure is active in Unilever. The board of director acts to meet the business efficiently.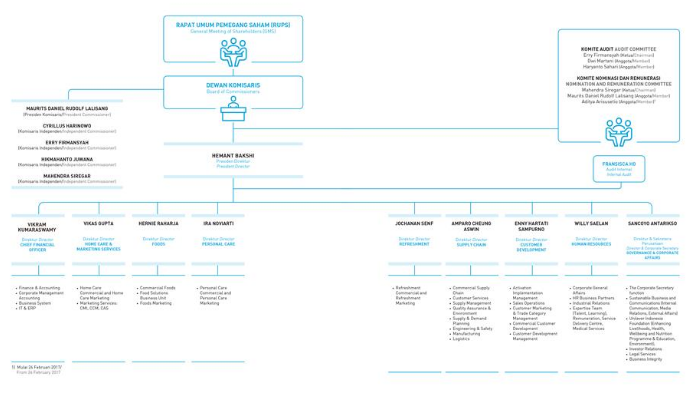 Figure 3: Organizational structure of Unilever
(Source: Unilever.co.uk, 2019)
Principles of good corporate governance
Effective implementation of strategic decisions by good corporate governance helps to achieve business objectives by avoiding unwanted conflicts. As stated by Schwartz (2017, p.95), corporate governance needs to meet the balance between different groups such as executive management, operations, project management and so on. The most commonly accepted principles of corporate governance include the following.
Governance structure
All the responsibilities and accountabilities within concerned organization need to be maintained properly.
Board structure
The boards need to be formed with independent directors such as executive directors, independent directors as well as non executive directors.
Appointment procedures
The board needs to ensure that a formal and transparent procedure is followed for effective planning.
Risk management
The board needs to be conscious while developing and execution of a comprehensive system for managing risk.
Integrity
The board needs to analyse the financial, environmental and social position of the company.
Relation with shareholders
The board of the organization should be efficient enough to deal with the stakeholders for overall growth of the organization (Pullen and Rhodes, 2015, p.163).
Conclusion
Thus it can be concluded that maintenance of proper business ethics within organization is helpful to develop the business process. For this purpose, the corporate governance system is responsible. The Unilever Plc represents a hierarchical organizational structure which act together to have success in controlling the business process. The authority of this organization faces a risk due to incorporation of high pricing strategy. It is regarded as the sole duty of the board of directors to be clear and loyal to the customers to have a greater share of market.
Reference list
Boatright, J.R., (2017). Ethics and corporate governance: Justifying the role of shareholder. The Blackwell Guide to Business Ethics, 32(12), pp.38-60.
Cuilla, J., Knights, D., Mabey, C. and Tomkins, L., (2018). Introduction: Philosophical Approaches to Leadership Ethics. Business Ethics Quarterly, 28(1), pp.1-14.
Goodpaster, K.E., (2015). Business ethics. Wiley Encyclopedia of Management, 12(6), pp.1-6.
Marques, J., (2016). Shaping morally responsible leaders: Infusing civic engagement into business ethics courses. Journal of business ethics, 135(2), pp.279-291.
Müller, R., Turner, J.R., Andersen, E.S., Shao, J. and Kvalnes, Ø., (2016). Governance and ethics in temporary organizations: the mediating role of corporate governance. Project Management Journal, 47(6), pp.7-23.
Pearson, R., (2017). Business ethics as communication ethics: Public relations practice and the idea of dialogue. In Public relations theory (pp. 111-131). Abingdon: Routledge.
Pullen, A. and Rhodes, C., (2015). Ethics, embodiment and organizations. Organization, 22(2), pp.159-165.
Schwartz, M.S., (2017). Business Ethics: An Ethical Decision-making Approach (Vol. 10). UK: John Wiley & Sons.
Unilever.co.uk (2019). Unilever. Available at: https://www.unilever.co.uk [Accessed on 7th February 2019]
Vitell, S.J., King, R.A., Howie, K., Toti, J.F., Albert, L., Hidalgo, E.R. and Yacout, O., (2016). Spirituality, moral identity, and consumer ethics: A multi-cultural study. Journal of business ethics, 139(1), pp.147-160.
Appendix: Board of directors of Unilever Plc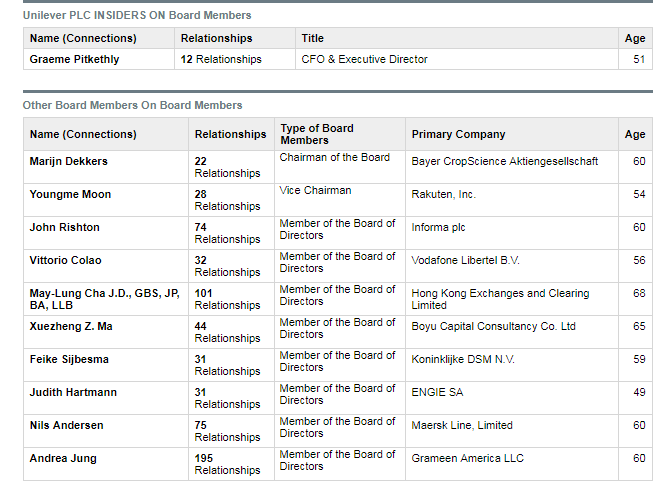 (Source: https://www.bloomberg.com/research/stocks/private/board.asp?privcapId=108478)\
Looking for best Business Ethics Assignment Help. Whatsapp us at +16469488918 or chat with our chat representative showing on lower right corner or order from here. You can also take help from our Live Assignment helper for any exam or live assignment related assistance.