QUESTION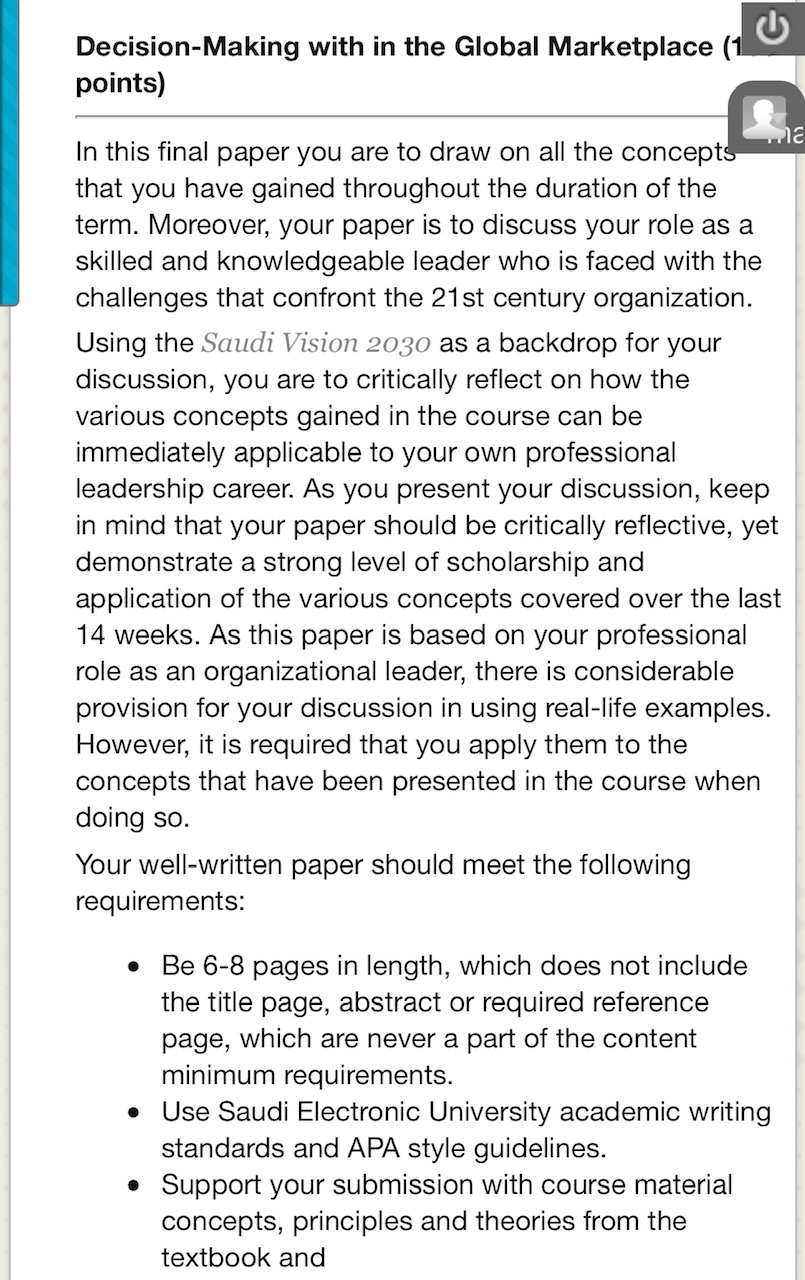 ANSWER
DECISION MAKING WITHIN MARKETPLACE
Introduction
Decision making is key factor for any company to get sustainability in global marketplace. In any company it is a major responsibility for any leader to take important decisions in order to achieve the aim and objective of the company. The following reflective paper highlights different concepts of decision making from the perspective of a skilled and knowledgeable leader. This paper also highlights the challenges that have been faced by the companies of 21st generation. Specific organisation such as Saudi Arabian Oil Company, Saudi Aramco has been chosen for better understanding of this reflective paper.
Leadership role in decision making process in context of Saudi Aramco
In all organizational activities it is important for any leader to possess effective decision making quality in order to face all the challenges that might occur in business operations. Thus, before coming to the point of leadership in decision making I would like to present my understanding regarding effective qualities of a leader. An effective leader should possess better communication skill along with strong analytical skill. This analytical skill of a leader holds the decision making ability (As per the view of Epstein, 2018). On the other hand, as per my understanding of decision making process, I would say that it is completely a rational and analytical approach that has immense effect in the sustainable growth of an organization. Based on my understanding of decision making approach with global marketplace aspect as a professional organization leader of Saudi Americo, I would say that I have gained knowledge as well as skill regarding decision making which will help me in future while executing different business operations in the company.
Influenced by the view of Goninan et al. (2015), regarding different decision making style in global organization I have seen that decision making has different approaches that depends on the organizational outlook of the leader. For example; there might be directive, conceptual as well as behavioural and analytical concepts of decision making approaches. From the evaluation of these four different decision making concepts, I have learned that directive decision making is completely rational approach where employee of the organization can provide outcome on the basis of their own knowledge, skill and experience. Thus, I think that it is directly related to autocratic style of leadership where leaders only make decisions based on their judgement, experience and knowledge. Azadnia et al. (2015) also stated that in this type of leadership decision making (LDM) there can be seen very little contribution of the subordinates.
As a marketing leader of Saudi Americo, I would say that sometimes it requires for the company to take directive decision making approach because, in certain situation it can be found that company is struggling due to lack of knowledge, skill and expertise of employees. Therefore, as the marketing leader it becomes my responsibility to take directive decision. In fact after implementing directive decision making concept in marketing operations of Saudi Americo, I have seen that my subordinates in marketing department are working with efficiency. As the reason behind this, I would say that I have divided the job and responsibilities based on their expertise.
In case of employees who are expert in negotiation I have decided to allocate them with budget planning job. On the other hand, employee with great public relation skill has been referring to the promotional job. After, taking this directive decision making skill in my department I have seen that marketing department's effectiveness has increased. Employees are more flexible with their job. Above all it helped Saudi Americo to become world's most profitable oil manufacturing company with producing and exporting 10 million barrels of oil in daily basis (bloomberg.com, 2018). Therefore, I can say that directive decision making approach of autocratic leadership has helped the company to get remarkable position in the global economy in terms of export and import oil business.
On the other hand, I have seen that Saudi Americo has faces issues in terms of choosing the best alternative solution from the wide range of solution. At that time other team leaders of different management department has implemented analytical decision making concept based on their analytical leadership styles. With reference to the view of Chimni (2017), I would like to say that analytical decision making helps at the time when it becomes critical to get best solution of a particular issue where already wide range of possible solution can be seen. Thus, from the other team leader of the company's management department I have learned that while adopting analytical decision making concept they relies upon continuous observation along with statistical data in order to support their decision.
For example; at the time of taking make or buy decision in terms of whether to purchase Crude oil, NAPHTHA and fuels or making these within Saudi Americo, the leader of production department decided to critically analyse the cost effectiveness of both making and buying decision. After analyzing the cost of production and warehousing, production department leader decided to produce raw material within the company. Along with that I have seen that in the financial year 2017, Saudi Americo has gained 33.8 billion USD as net income by suppressing global market leaders like; Apple Inc., JP Morgan Chase & Co. and Exxon Mobil Corp (bloomberg.com, 2018).
From the above scenario I have learned that it is best to evaluate the situation critically based on previous data and statistical analysis in order to coming to a rational decision that would be beneficial for my company.
In the contrary while working as a leader in Saudi Americo, I have seen HR department of the company to take conceptual decision making approach. Inspired by the view of Bird & Mendenhall (2016), I would say that HR department of Saudi Americo has taken this decision making approach to enhance the democratic style leadership. Most importantly this decision making approach emphasises on the social outlook of the company. Along with that, it helps the leaders to create creative thinking ability in order to achieve future sustainable growth.
For example; when overall management department of Saudi Americo decided to get competitive advantage in global market by staying one step ahead of the competitors then, HR department chose to enhance the field of Corporate Social Responsibility which will provide the company more sustainable advantage in the long run global market perspective. Therefore, Saudi Americo decided to start new venture for unique kindergarten initiative along with child welfare initiative. This positive initiative of Saudi Americo has increased the value of the company up to 2 trillion USD (Saudi aramco, 2019). Therefore, from the above discussion I came to understand that effective decision making techniques of the management leaders enhance the chance for any company to get market leadership in context of global marketplace.
Another decision making approaches that I have seen to be implemented by the HR department of Saudi Americo is that behavioural decision making skill. Based on the analysis of this decision making approach I have learned that behavioural decision emphasises on the group oriented leadership style (As per the statement of Bird & Mendenhall, 2016). That means it highlights the key factor of working together within a group by maintaining the well being of all members. One more thing I have noticed from this approach is that behavioural decision making concept includes decisions and opinions of all employees and from there the best alternative has been chosen (Influenced by the comment of Chimni, 2017). It can be easily defined through the example of Saudi Americo.
For example; when HR personnel of Saudi Americo found that in managerial function of the company employee participation was not appreciated or included then they decide to take introspective communication approach of behavioural decision making where leaders took initiative to communicate with each and every employee by encouraging and influencing them to provide their opinion without any hesitation. More importantly, I have seen that after taking behavioural decision making approach in leadership function Saudi Americo has seen increasing oil productivity that operates more than 90 countries globally by producing 98% of global crude oil (Saudi aramco, 2019).
Therefore, from the above discussion I have learned that leadership quality plays a major role in effective decision making process of the company. It helped me to gain knowledge about different decision making styles. Moreover, I have learned that based on scenario decision making strategy and approaches changes. More importantly leadership style and role of the leader should change depending on the core competency of the leader in order to take major decisions (As per the comment of Cumberland et al. 2016).
Conclusion
Leadership style and decision making strategy is directly related to each other. If the leadership style changes then decision making approach will also change. On the other hand, decision making skill of a leader has diversified impact on the business operations. From the above discussion it can be concluded that different decision making approach such as directive, conceptual as well as behavioural and analytical decision making approaches has positive impact on the leadership style of Saudi Americo. On the other hand, leaders from different management department play a vital role to enhance the effectiveness of these decision making approaches.
Looking for Management Assignment Help. Whatsapp us at +16469488918 or chat with our chat representative showing on lower right corner or order from here. You can also take help from our Live Assignment helper for any exam or live assignment related assistance.