QUESTION
Assessment Brief
Knowledge and Understanding

Critically analyse the theory, concepts and models of operations and information management and demonstrate an understanding of the strategic importance of information management in global organisations.

Evaluate critically the fundamental principles of information systems and the significance of a socio-technical approach to their use in organisations.

Select and apply appropriate problem-solving and improvement approaches for information systems in organisations.

Transferable/Key Skills and other Attributes

Identify and utilise appropriate methods for collecting and analysing data related to operations and information management

Locate, summarise and synthesise a range of information from published literature and electronic sources on operations and information management

Use communication skills; listening; questioning; oral and written; using a range of media, including the preparation of audit report and delivering presentations;

Show effective use of Communication and Information Technology (CIT) by creating a report;
As Case Study: CC Music

Chris and Clive are both former music and music technology teachers who have recently taken early retirement. However, they have a long history of playing in bands and being session musicians, therefore they intend to remain busy. A Northern Soul band that they have worked with for many years, touring around the North West of England, will now become their focus. Chris and Clive have always managed all aspects of the band (studio work, playing at events, parties, TV and radio programmes). They publicise the band via a website, deal with all booking arrangements over the phone, and receive contracts and cheque payments through the post. The other six band members simply turn up and play. The band has always played at least twelve gigs a year, but this is likely to increase substantially now that they can commit more time to networking and promotions. As such, they will be required to take a much more professional approach. In addition, several other bands have asked if they will represent them for an agreed fee. As a professional route, this would mean considerable time working as music agents to promote other artists.

Chris and Clive are aware that starting the agency would require a business approach. They would be responsible for; social media marketing, keeping business accounts, providing an updated calendar of events, and keeping track of the communications between themselves, the clients who want to book bands, and the bands who are signed to CC Music.

They realise that technology will play an important part in the business. They have read about Customer Relationship Management software and Enterprise Resource Management software, but just don't know what kind of information technology support they really need as a small to medium enterprise (SME). They require professional business information technology advice before they can make any final decisions about investing funds in business software. Also, they are very keen on the potential of Open Source Software to keep the cost to a minimum.

Growing CC Music into a full-time small business is also of interest to younger family members who want to be involved. Chris has a daughter and Clive has a niece, both of whom are keen to support the business and potentially manage the business in the future. They have all agreed to run the business in a democratic style and, as such, everyone will have an equal vote on any business decisions. Therefore, CC Music requires a report that can be read and understood by all of them. You are the OIM consultant who is responsible for researching this business and providing a consultancy report.

TASK

You are a consultant who has been employed to advise CC Music on the effective implementation of strategic changes. You are required to produce the following:

Part A:Analysis – Business Process Models and strategy analysis

In this section you should develop

A series of at least two Business Process Models to capture the existing and your proposed business processes for CC Music. The models should follow the BPMN notation (see for example, http://www.omg.org/bpmn/Documents/Introduction_to_BPMN.pdf). It is recommended that you use Microsoft Visio or similar software to create the models, although you may if you prefer use Word, PowerPoint or appropriate alternatives.

Strategic analysis for CC Music. You should use at least one recognised analysis technique such as SWOT, PESTLE etc

Part B: Open Source Software Comparison Table

In this section, you should conduct research into a suitable software solution for CC Music. You should decide on the set of characteristics which you will use to evaluate the software, and your research should consider 4-5 alternatives in detail. This section should be presented as a table.

Part C: Report

In this section, you should write a report which provides an overview of the current situation for CC Music together with a roadmap outlining how the proposed changes to the business can be achieved to the benefit of the business. This should draw on your analysis in Part A, include your recommendation for software in Part B, and provide recommendations for ensuring that the strategy is effectively implemented, including consideration of the challenges ahead.

This section, should follow a standard report structure:

Title Page – Contents – Introduction – Main Section – Conclusions and Recommendations – References.

Part D: Reflection on your contribution to the online discussion

In this section you should submit a 250 word reflective summary, accompanied by your own self-assessment of your contribution to the online elements throughout the module, using the table labelled Reflection Self-Assessment Pro forma in Appendix A (copy and paste it into your assignment document) to show your performance. The reflective report should include your detailed reflection, supported with evidence (pasted URLs) from the online discussion, detailed below:

You should use appropriate theories, frameworks, models, that we have covered in the module, to inform and justify your recommendations.
ANSWER
OPERATIONS AND INFORMATION MANAGEMENT
Executive summary
The report has effectively focused on analysing the business process model and the strategies suggested in the part A. It has effectively focused on studying the current situation of CC Music and has linked the complete situation with the business process model suggested. It has been suggested that the business process model containing the ERP system will be much more preferable for the company. There is also a mention of a road map, which will be suitable for the company in order to deal with the required changes. Customer relationship management is effectively focused upon as it has been realised that the company lacks experience and there is a need to grab a customer base to be established as a small enterprise.
Table of Contents
Part A: Analysis – BPM and strategies 
1. Business Process Models 
2. Strategic analysis of CC music 
Part B: Open source comparison 
Part C: Report 
1. Introduction 
2. Findings and analysis 
2.1 Current Situation of CC Music 
2.2 Roadmap for proposed changes 
2.3 Strategies and Open Source Software 
3. Conclusion 
4. Recommendation 
Part D: Reflection 
Reference list 
Appendix: Road map 
Part A: Analysis – BPM and strategies
1. Business Process Models
Existing business model
Figure 1: Existing business model
(Source: Greasley, 2017, p.56)
From the above figure, it is clear that the business process is very simple and is in need of professional advice. The process above starts with the booking procedures, where a decision is being made regarding the payment. It is observed that if the price that is quoted is accepted, then the booking will be confirmed. In addition, it has been identified the process model does not involve the different departments through which the complete procedure will be completed.
Proposed model 1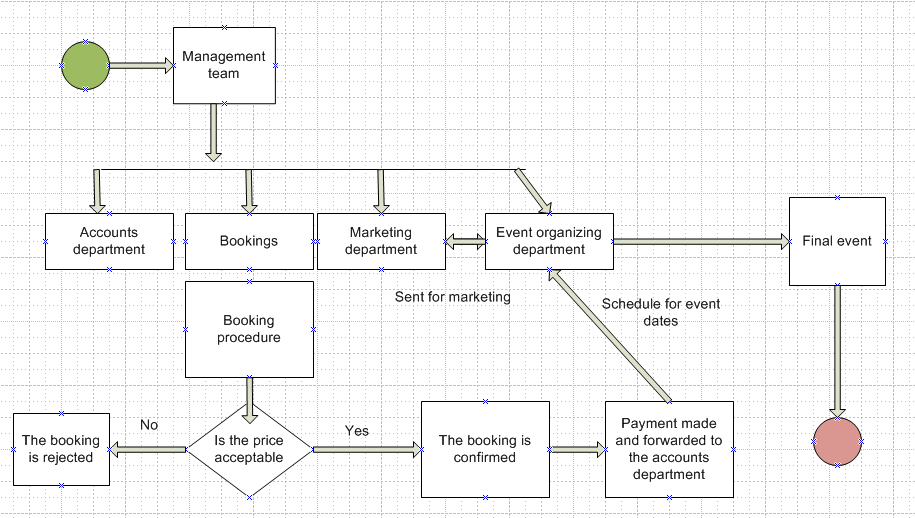 Figure 2: Proposed business model 1
(Source: Stubkjaer, 2017, p.25)
From the above business process model, it is clear that the inception of a management team has proven to have provided more control over the different process. In the context of CC Music, it can be stated that there can be four different departments, which will look after the complete process. From the figure, it can be noted that first the bookings will be handled by the booking department, where there will be a decision making regarding the quotes provided. After the acceptance of the required price, it will be transferred to the accounts department. After the successful transaction, the event organising department will finally plan the event and then will be transferred to the marketing department for the promotions. The final event will be then conducted.
Proposed model 2
Figure 3: Proposed business model 2
(Source: Greasley, 2017, p.45)
From the above figure, it is clear the all the departments will be controlled by the Dolibarr ERP system software. All the records will be documented and handled by the ERP system. The data centre will work on the cloud platform, which will be effective in accessing the data from all the required destinations. This means that the account quotes will be visible to the booking departments. The purchase and marketing of tickets will also be accessible to the accounts department. Based on the financial requirements and other factors, the marketing department will be able to proceed with its job.
2. Strategic analysis of CC music
SWOT analysis
Strengths

Experience in the music and entertainment industry

Strong fan base

Good knowledge of music and creating rhythm

Support from the family members

Good contact and network

Weaknesses

Lack of advertising and marketing strategies

Lack of technological knowledge

Opportunities

Expansion of the company

Development as a small-medium enterprise

Threats

Competition from renowned music bands

Financial support
Table 1: SWOT analysis of CC music
(Source: Influenced by Ctb.ku.edu, 2019)
From the above table, it is clear that Chris and Clive, who are the owners of the company has experience in working in different bands. This is strength for CC Music, as the company will have enough knowledge regarding the type of music that is being preferred by the audience. This can be considered to be, a real strength for the company. In addition, it has been identified that the owners, also possess knowledge regarding the music technology and they also have experience in handling business accounts, booking, keeping track of events and managing the communication. Counsel and Officer (2018) have effectively stated that in order to, effectively grow a business, it is highly essential that there is required knowledge and experience regarding the concerned genre of business. Hence, in the context of CC Music, this experience and the business knowledge can provide a lot of advantage for the company to grow and be at an advantage in the entertainment industry.
It has been identified that as the company is a new one, it potentially lacks the advertising techniques that are very important in today's competitive environment. As influenced by the idea of Haddara (2018), it can be stated that it is very necessary to effectively understand the importance of technology in the context of marketing and advertising. CC Music lacks the appropriate techniques. Hence, this is a weakness for the company, where it is required to utilise concepts such as marketing using social media and viral marketing and overcome its lacking.
After utilizing its strengths, the company can effectively expand itself to the other parts of UK. it has been observed that the company is currently in its starting phase, however, the owners do have the experience of working with different bands and other music agencies. According to Alotaibi and Liu (2017), this can effectively provide the company with the opportunities of successfully establishing itself to be an efficient small-medium enterprise.
It is mentioned earlier that the company has a weakness of lack of advertising techniques and suitable technology usage. In this context, it can be stated the renowned music bands and other music agencies can pose a threat to the company. In addition, in order to get established in the music and entertainment industry, a financial backup is very necessary. This is effectively required and there is an effective need of utilising the strategies that the renowned organisation utilise so that the company objectives can be effectively, achieved (Thi and Helfert, 2017).
Part B: Open source comparison
Suitable software solution

Dolibarr ERP

Description of Dolibarr ERP in the context of CC Music

Accounting

This software is very popular for its sales management facilities. It has been identified that there are multiple sections under the accounts field that can be built in within the help of this software system. It is identified that the sales management, purchase, management of stocks and bookings can be effectively handled with respect to CC Music (Olson et al. 2018).

Customer relationship management

Being a new start-up company, it is very essential that the company is required to manage its starting consumer base. For this, the software, Dolibarr ERP can prove to be very beneficial. This software is a renowned software system, which is very effective in managing the company's interactions with the potential and current consumers. Hence, with regards to, CC Music, this company will effectively be able to interact with the potential music artist and its other contacts for stage performances. This will effectively lead to better handling of the customers (Sardo and Alves, 2018).

Management of human resources

Dolibarr ERP effectively runs on PHP. This software is effectively designed with the fields such as contact management, customer database, transaction history, payroll, attendance, leave requirements and others. Such features will prove to be very effective while in the process of handling the human resources and linking them with the consumers, so that everything can be managed over an integrated platform.

Inventory modules

It provides an effective inventory management system, which is rated 4.5 on 5.

Cloud performance

It has been identified that installations through a cloud network are effectively possible through the means of this software. The linking of the different departments like accounts, booking, customer's management, a music section and others are very much possible on an integrated platform and hence, this will be useful for the CC Music (Hasić et al. 2018).

User-friendly

This enterprise resource planning software system is very effective and it is user-friendly as it is compatible with both the MAC and the Windows operating systems. The handling of the complete software is easy and does not really require a tech-savvy in order to operate and work with it. The employees within the music companies can handle this software system, as there is an in-built guide to, all the procedures and the processes that are involved within it. There is an effective graphical user interface, with the help of which, the departments can communicate with each other. This software also has the option to be translated to any of the European languages as well.

Updates

As this software is immensely popular, it is effectively updated. There is a very active user forum, through the means of which troubleshooting can also be performed. In addition, it also has a room for the general discussion over its website, which has some effective guidance on better implementation and handling of the software system.

Security

Since it is renowned and majorly utilised, the security systems are of satisfactory levels. However, it can be customised. The details of the music artists and the employee details are essentially required to be, protected. Hence, complex firewalls can be installed at the gateways.

Alternatives

Other software systems

ERP next

iDempiere

MixERO

Odoo

Openbravo
Table 1: Open source comparison
(Source: Dolibarr.org, 2019)
Part C: Report
1. Introduction
In order to start an agency, a proper professional business approach is indispensable. With the growth in a competitive business environment, organisations are required to invest more in innovation, effective process management and a well-calculated strategic approach. CC music is looking forward to the establishment of an agency. CC music owner, Clive and Chris have to focus more technology for establishing a proper business framework. The current report aims to analyse the present situation that CC music is facing and software sources that it can use for better business implementation in the future.
2. Findings and analysis
2.1 Current Situation of CC Music
Currently, CC music is focusing on Northern Soul band that has been working with the owners for a long time. It is expected that number of band performances will increase and Chris and Clive are required to adopt a more professional approach. The strength of CC music lies in its good contact and knowledge of music. It also has good support from family members like that of Chris' daughter and Clive's niece. From the analysis in Part A, it is clear that CC music lack effective advertisement strategies and poor technical knowledge of the owners. CC music requires keeping track of communication between stakeholders, conducting social media marketing and maintaining ledger business accounts (Fernandez et al. 2017).
There is a lack of professional business information technology advice that is required for taking investments decisions regarding the purchase of business software. In order to maintain the minimum cost, they prefer open source software. As influenced by the idea of Oghazi et al. (2018), it can be stated that in order to implement technologies successfully, a proper idea and user knowledge are required about the specified technology. The current scenario of CC music is devoid of this knowledge and proper roadmap is required for establishing the proposed changes.
2.2 Roadmap for proposed changes
As evident from the analysis in previous sections, the sole target of CC Music now is to implement a proper technological framework for expanding its business in a proper. In reference to the opinion of Lee et al. (2017), technology initiatives like the implementation of an ERP system can be occasionally intimidating. These are expensive, time-consuming and carry risks of failure thereby creating disruptions in company operations. CC music is also most likely to face similar challenges. In such a case, a technology roadmap can help it to approach its target with confidence and prevent it from making costly mistakes (Influenced by Hashmi et al. 2018).
Firstly, CC music needs to define strategic objectives based on the tools and information required. For instance, the objectives of social media marketing and customer communication can be identified. Next step should include a detailed plan for the future. Sights need to be set on a longer time horizon and CC music can plan for the next 3-5 years. From the viewpoint of Acar et al. (2017), it can be stated that a technology that is flexible, scalable and expandable enough to accommodate your long-term needs will help a business to get the most out of its investment. CC Music can follow the next step of defining functional needs and priorities like identifying technological gaps and other required functional capabilities. Currently, it uses the only website and lacks proper advertisement strategies. Hence, the implementation of modern advertisement technology will be of great help. Cost measure is another part of the roadmap for CC music. The owners are required to make a clear cost estimate before implementing ERP software. The other two essential part of the roadmap will be to appoint an IT committee and establish a proper and realistic timeline. Since CC music is growing to a be a family oriented partnership and none of the members is IT-proficient, the organisation needs to recruit IT consultants or IT specialists for gaining better cost and deployment knowledge. It can also facilitate communication and develop collectivist thinking. However, all these steps can be achieved by following a proper IT architecture that is described below.
From the ideas of Appelbaum et al. (2017), it can be stated that in case of companies requiring proper IT framework, and IT Architecture roadmap is the best one that helps business to build and deploy the most appropriate technology infrastructure for the business. The architecture will have four parts, namely User Interface, Application Programming Interface, Storage Agreement and service integrations. The planning phase will include identification of user needs, the definition of API specifications, agreement regarding storage facilities and narrowing down integration partnerships. Following this, the planning phase will include moving entire IT architecture to a new framework with collaboration with vendors and carrying out proper integrations. The optimisation phase will include rollout of tasks project progress reporting. The discussed roadmap is expected to deliver the aimed success to CC Music.
[Refer to Appendix]
2.3 Strategies and Open Source Software
Clive and Chris have learnt about the usage of ERP or CRM software and are looking forward to use open source software as it is cheap. Hence, as explained in Part B, Dolibarr ERP & CRM package will be the most suited software as it helps in managing both companies and freelancers. The major characteristics that will help CC Music are that it is extremely simple to install, develop, implement and use. The organisation is devoid of proper IT specialists. Though it is recommended to recruit IT individuals, Dolibarr ER can be even used without IT knowledge, in case of unavoidable situations. It is available with auto-installers making it easy for users with no technical knowledge to handle Dolibarr effectively (Influenced by Haddara and Moen, 2017).
Dolibarr aspects that will help CC music are its multi-user facility, user-friendly nature, highly customizable features and open web service APIs. It is easy to understand, maintain and code and interfaces with your own system information. CC Music will be able to manage invoices, payments, show contracts, accounting, reports and mass emailing. At the same time, Dolibarr will also enable better facilities in supporting Cloud infrastructure, thereby imparting easy handling techniques to the CC Music management (Lemonakis et al. 2018).
3. Conclusion
In order to conclude the report, it can be said that CC Music holds all forms of energy, will and ability to turn their talent into a well-established agency. With increasing weakness in its advertising capabilities and threats from other organisations, CC music will be required to follow a coherent and logical approach for achieving its business target. They are required to adopt a more professional approach and become more technologically proficient. They require professional business information technology implementation before proceeding with their plan.
4. Recommendation
Implementation of change in a business framework is always associated with challenges. Similarly, CC Music may face issues like a budget shortage, lack of proper communication, lack of collaboration between the project members and mistakes in the initial stages. These can be overcome by a collaborative approach among the management members. Involving each member in each decision and gathering opinion from everyone. The change requirements and need for up gradation must be communicated in a structured and systematic manner. This is because poor communication can create resistance. CC Music needs to gather all knowledge and information related to technological implementation from the consultants in detail. This will prevent any form of troubles and issues associated with business process management. Another strategy that is essential in following up of the implemented process. Any decision that the CC Music owners take must be followed on a regular basis to make any additional changes and prevent unanticipated and sudden failure of technology. In order to establish a new business, CC music will also be required to adopt the business registration number and permission from the concerned authority. Finally, a properly developed plan along with the support from family members will enable CC Music owners to set up a completely new business and gain substantial long-term profits.
Part D: Reflection
After completing the complete module, I have effectively learnt many of the things. The Business process modelling, in this case, have potentially helped me in the process of understanding the different ways through which business processes can be improved. Within this study, I have also gained knowledge regarding the various models and theories that can be effectively utilised in order to, effectively complete a study. As influenced by the idea of Wibowo and Sari (2018), I can stated that the different types of analysis tools are required to be used so that proper analysis can be done. In this study, the conduction of SWOT analysis has potentially helped in the process of identification of the strengths and the weaknesses of the company. I have learnt that t is very necessary to understand the internal environment that the company will be operating with. This will potentially help in the process of competition with the other companies, which are already established. I have also contributed effectively to the online contributions. My discussion dated October 16th and 19th have an effective discussion regarding the business process modelling techniques. In my current assignment, I have made effective use of the flow chart technique using Microsoft Visio. The demonstration of the existing process has helped in understanding the loopholes. Based on the existing image, two different proposed models have been suggested. This module has helped me with understanding the different types of ERP software systems that are available. I have understood that there is an effective need of an integrated platform, which has the capability of integrating all possible works of different departments together and link those.
Reference list
Books
Greasley, A., 2017. Simulation modelling for business. Ed. 5th, London: Routledge.
Stubkjaer, E., 2017. The ontology and modelling of real estate transactions. Ed. 4th, London: Routledge.
Journals
Acar, M.F., Tarim, M., Zaim, H., Zaim, S. and Delen, D., 2017. Knowledge management and ERP: Complementary or contradictory?. International Journal of Information Management, 37(6), pp.703-712.
Appelbaum, D., Kogan, A., Vasarhelyi, M. and Yan, Z., 2017. Impact of business analytics and enterprise systems on managerial accounting. International Journal of Accounting Information Systems, 25, pp.29-44.
Counsel, R.P.G. and Officer, P.C., 2018. The Interlocal Purchasing System. Center for the Collaborative Classroom Alameda, 4(2), pp.05-011.
Fernandez, D., Zainol, Z. and Ahmad, H., 2017. The impacts of ERP systems on public sector organizations. Procedia computer science, 111, pp.31-36.
Haddara, M. and Moen, H., 2017. User resistance in ERP implementations: A literature review. Procedia computer science, 121, pp.859-865.
Haddara, M., 2018. ERP systems selection in multinational enterprises: a practical guide. International Journal of Information Systems and Project Management, 6(1), pp.43-57.
Lee, Y., Do, J. and Choe, Y., 2017. Study on Factors for Improving The Effectiveness Of ERP Within Korea Agricultural Products Processing Center. Journal of Research in Business and Management, 5(2), pp.89-92.
Lemonakis, C., Sariannidis, N., Garefalakis, A. and Adamou, A., 2018. Visualizing operational effects of ERP systems through graphical representations: current trends and perspectives. Annals of Operations Research, pp.1-18
Oghazi, P., Fakhrai Rad, F., Karlsson, S. and Haftor, D., 2018. RFID and ERP systems in supply chain management. European Journal of Management and Business Economics, 27(2), pp.171-182.
Olson, D.L., Johansson, B. and De Carvalho, R.A., 2018. Open source ERP business model framework. Robotics and Computer-Integrated Manufacturing, 50, pp.30-36.
Sardo, F. and Alves, M.C., 2018. ERP Systems and Accounting: A Systematic Literature Review. International Journal of Enterprise Information Systems (IJEIS), 14(3), pp.1-18.
Wibowo, A. and Sari, M.W., 2018. Measuring Enterprise Resource Planning (ERP) Systems Effectiveness in Indonesia. TELKOMNIKA, 16(1), pp.343-351.
Online articles
Alotaibi, Y. and Liu, F., 2017. Survey of business process management: challenges and solutions. Enterprise Information Systems, 11(8), pp.1119-1153. [Online] Available at: http://www.macs.hw.ac.uk/~yjc32/project/ref-Business%20Process%20Modellling/2016-Journal%20Enterprise%20Information%20Systems-Survey%20of%20BP%20mgmt%20challenges.pdf [Accessed on: 3.03.2019]
Hashmi, M., Governatori, G., Lam, H.P. and Wynn, M.T., 2018. Are we done with business process compliance: state of the art and challenges ahead. Knowledge and Information Systems, pp.1-55. [Online] Available at: https://www.researchgate.net/profile/Guido_Governatori/publication/321905323_Are_We_Done_with_Business_Process_Compliance_State-of-the-Art_and_Challenges_Ahead/links/5a38ce450f7e9b7c48700429/Are-We-Done-with-Business-Process-Compliance-State-of-the-Art-and-Challenges-Ahead.pdf [Accessed on: 5.03.2019]
Hasić, F., De Smedt, J. and Vanthienen, J., 2018. Augmenting processes with decision intelligence: Principles for integrated modelling. Decision Support Systems, 107, pp.1-12. [Online] Available at: https://www.researchgate.net/profile/Faruk_Hasic2/publication/322111306_Augmenting_Processes_with_Decision_Intelligence_Principles_for_Integrated_Modelling/links/5a61bc8e0f7e9b6b8fd4077a/Augmenting-Processes-with-Decision-Intelligence-Principles-for-Integrated-Modelling.pdf [Accessed on: 4.03.2019]
Thi, T.T.P. and Helfert, M., 2017. Modelling information manufacturing systems. arXiv preprint arXiv:1704.06226. [Online] Available at: https://arxiv.org/ftp/arxiv/papers/1704/1704.06226.pdf [Accessed on: 5.03.2019]
Websites
Ctb.ku.edu, (2019), SWOT Analysis: Strengths, Weaknesses, Opportunities, and Threats Available at: https://ctb.ku.edu/en/table-of-contents/assessment/assessing-community-needs-and-resources/swot-analysis/main [Accessed on: 4.03.2019]
Dolibarr.org, (2019), Open Source ERP & CRM for Business Available at: https://www.dolibarr.org/ [Accessed on: 3.03.2019]
Appendix: Road map
(Source: https://app.productplan.com/p/omhvmQ3Vpdcb02_MpuTuOeeW6b35F141)
Looking for best Management Assignment Help. Whatsapp us at +16469488918 or chat with our chat representative showing on lower right corner or order from here. You can also take help from our Live Assignment helper for any exam or live assignment related assistance