QUESTION 1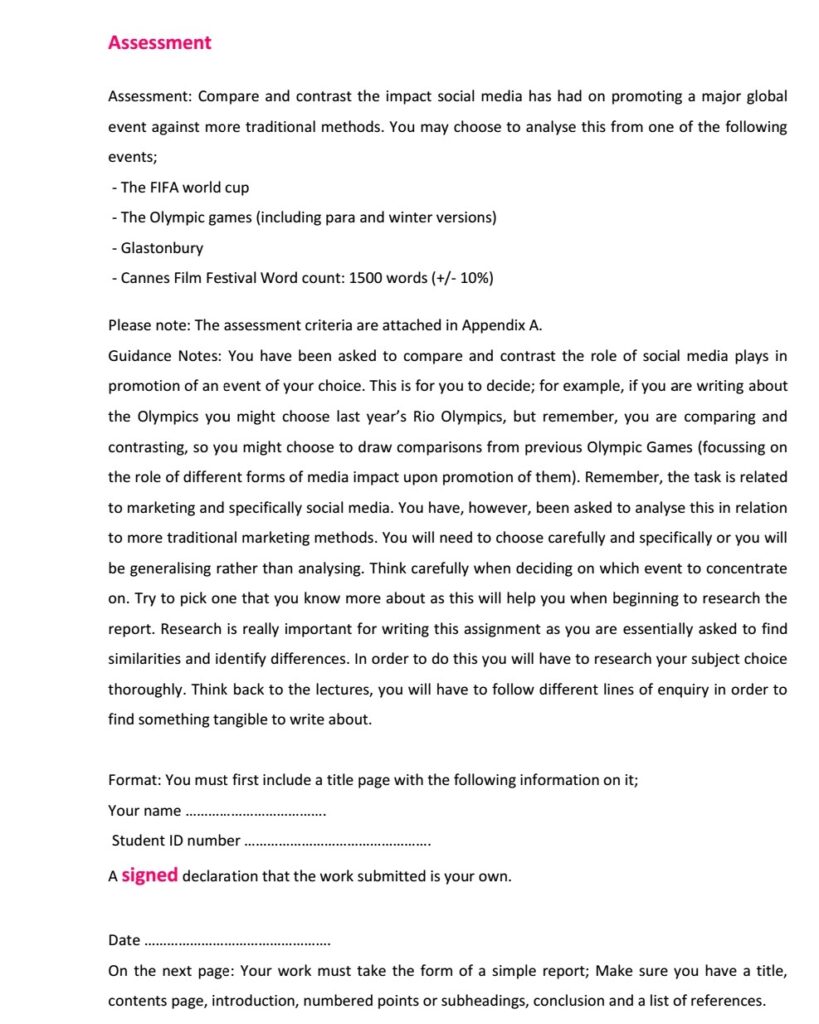 ANSWER
Introduction
Marketing a product or an event is not a new phenomenon as it have existed right from the very beginning but the ways of marketing have changed over the years and have evolved quite significantly to provide an upper hand for the marketers. Social media is the newest marketing tool platform that have revolutionized the marketing platforms and have gained unprecedented success over the years. The advent of social media has provided different marketing platforms to the companies that are showcasing their products or managing an event to reach to maximum number of audiences all over the world with more effectiveness. It certainly has a profound effect on the delivery and the consumption of an event or a sports event. Twitter, Facebook, Instagram and many more social media platform are available and they are providing the right platforms for the companies to cater their products and events to their targeted customers with ease and with little investments as compared to traditional marketing platforms (Hermann, 2014).
Through this review we will discuss about how social media has impacted a major global event against the more traditional methods. We will also compare the impact of social media promotions with that of traditional promotional methods and will discuss about the effectiveness of the social media in current scenario where everything is happening over social media. For this review we have chosen the FIFA world cup and we will see how this global event have shaped up over the years and how marketing and promotional tools have changed the face of the game.
The FIFA world cup
The FIFA world cup is one of the biggest sports event in the world along with Olympics. Over 192 countries plays the football and that can easily give you a sense of how popular this game of football is and how many eye balls one must expecting for such a showpiece event that occurs once in four years. The whole world waits for this event and for that matter every person associated with the event directly or indirectly looks forward to cash on the occurrence of the event. Right from the very first tournament from 1930 to the last world cup in Russia in 2018 the FIFA world cup has only got bigger and better and also the ways of promoting this mega event have also evolved quite significantly.
The 2014 FIFA world cup that was held in Brazil was said to be the most social mega sports event as well as the most social world cup ever as there were as many as 672 million tweets on twitter regarding the event and over 3 billion conversations and posts on Facebook. The game took a whole new dimension with this new advent and had helped the promoters to reach new territories where with the traditional approach it would have been difficult to penetrate. Whole in whole it was a win-win situation for the stakeholders of the game and also for the people that are involved with the game (Capgemini, 2014).
What is social media?
In between all the talks about social media one speculates what exactly is this phenomenon and how it has been able to create so much activity within short span of time and with much lesser investment than the traditional approach and methods. Safko and Brake (2009) defines social media as the interactions and communication between two individuals online encompassing all the information and knowledge while using web based applications (Safko and Brake, 2009).
On all the social media networking platforms the users are primarily familiar with each other, however, it also provides platforms for people that does not each other but are connected because of some common interests or share the same community (Hajli, 2014).
Social media as a new age marketing tool
Social media marketing is a whole new phenomenon but have gained stupendous popularity in the last few decades and that certainly have helped organizations to showcase their products and services through this new age marketing tools to their existing as well as prospected customers. Social media marketing is a process that enables business organizations or individuals to promote or advertise their products, websites and services through social media platforms to virtually reach to a bigger and broader community which the traditional marketing cannot achieve or reach (Weinberg, 2010).
However, on the flip side one can argue regarding the revenue generating ability of the social media and whether it can be an earning prospect for the stakeholders. It has been discussed for long and experts are not unanimous about its ability to generate profits. However, as compare to the traditional marketing tools we can say that social media marketing tools are much more investment friendly than that of the traditional marketing tools (Bahrey, 2014).
The FIFA world cup and the social media marketing frame
The 2014 FIFA world cup was held in Brazil and as per the researchers and market experts it was the most social world cup ever to be organized as there were millions of posts and conversations regarding the event and that certainly transforms into revenue for the stakeholders and the interesting parties. Social media marketing is a new phenomenon in terms of covering and presenting a global mega sports event and it was in 2002 FIFA world cup that the first online web pages were established for the next world cup to be held in Germany ( Catalyst, 2014).
But it was in 2014 that enabled the promoters of the event as well as the stakeholders to take full control of the social media marketing tools and reap huge benefits from the event. Nike, Adidas and many other major sports wear companies collaborated with the event and have designed their campaign that suits the social media distribution.
As per the trade experts the total market for the advertisement revenues around the world was $488 billion and out of that the FIFA world cup 2014 contributed $2.4 billion. The opportunities were huge and it definitely converted into huge revenue streaming channel for the stakeholders as well as the interested parties (Greeley, 2014).
3.3 million Viewers were watching the event during 2014 event and that is definitely a huge number of eyeballs for one such event and that allowed the business organizations to develop and design their marketing strategies and to boost their sales and activities during that period (Hebben, 2014).
Traditional platforms and the social media platforms
Traditional media platforms include TV, print media and radio and they have been an integral part of the marketing world over the years and have evolved during those years. However, no significant changes have been made as it still is the most favored marketing platforms for the organizations across the world. But with the advent of the social media traditional media platforms are definitely losing its share to the social media platforms. Twitter and Facebook are now become synonymous to the lives of people and people are spending much more time over these platforms than any other media platforms. The youth is now connected to the whole world through their mobile phones and they are always in a hurry to share their posts, photos and videos with their counterparts and social media is definitely providing that access to them ( Hebben, 2014).
Traditional media is much more costly than the social media and it also is a slow process that reaches its target audience after much has happened over the social media platforms. On the other hand social media is easily accessible through internet and the target audience can get the desired news and information within seconds. Traditional media is still the number one revenue generator for the companies as compare to the social media but the way things are happening over social media it will soon overtake the traditional media as the number one revenue generator (Hettler, 2010).
However, many companies are still apprehensive about the importance of social media and have not taken full toll of the social media platforms. The 2014 FIFA world cup was a testimony for the importance of social media for the marketing purpose and despite being it in its early stages it will definitely brought forward newer dimensions for the companies in the future (Weinberg, 2010).
Conclusion
Social media platforms being used as marketing tools covering mega sports event is a new phenomenon but it has the ability to change the dimensions of the entire marketing campaign employed by the business organizations to cater and showcase their products. The reports from the researchers are overwhelming for the users of social media platforms for marketing and the 2014 world cup is an effective testimony for that and future is bright for the next mega event to be held in Russia.
Companies are gathering huge data and they definitely will process them in order to lead next time during the next mega event and that will provide the right research material for the impact of social media platforms on a mega global sports event.
References
Bahrey, L. (2014): 2014 Marketing World Cup: "Risk Everything" or "Go All In?". Retrieved 25 November 2014 from:

http://www.trojan360.com/2014-marketing-world-cup-risk-everything-orgo-all-in

.

Capgemini (2014): Digital Shopper Relevancy Research Report 2014. Retrieved 13 February 2015 from:

http://www.capgemini.com/resource-fileaccess/resource/pdf/dsr_2014_report_final_06oct2014.pdf

.

Greeley, B. (2014): World Cup Shootout: Can Nike Beat Adidas at Soccer? Retrieved 24 November 2014 from:

http://www.businessweek.com/articles/2014-05-15/2014-world-cup-nike-adidas-gear-up-forsoccer-duels-next-round

.

Hajli, N. (2014): A study of the impact of social media on consumers, in: International Journal of Market Research, 56 (3), pp. 95-113.

Hebben, M. (2014): Diese WM-Kampagne sollte frecher, jünger, provozierender sein. Retrieved 25 November 2014 from:

http://www.horizont.net/marketing/nachrichten/Adidas-Interview-DieseWM-Kampagne-sollte-frecher-juenger-provozierender-sein-121211

.

Hermann, S. (2014): Ibrahimovic weiß, was beim Halbfinale den Unterschied ausmacht. Retrieved 26 December 2014, from: http://www.wuv.de/marketing/ibrahimovic_weiss_was_beim_ halbfinale_den_unterschied_ausmacht.

Hettler, U. (2010): Social Media Marketing. Marketing mit Blogs, Sozialen Netzwerken und weiteren Anwendungen des Web 2.0, München.

Safko, L. & Brake, D. K. (2009): The Social Media Bible: Tactics, Tools, and Strategies for Business Success, Hoboken/New Jersey.

Weinberg, T. (2010): Social Media Marketing – Strategien für Twitter, Facebook & Co., Köln.
QUESTION 2
ANSWER
Introduction
The business scene all over the world has changed quite significantly over the last three four decades because of the globalization as it has made the whole world a level playing field where everyone has the opportunity to do business across the world. Globalization, now a days is the most common business theme to be discussed across all the business organizations and industries and everyone is analyzing it to the hilt to get the best out of the available opportunities. Globalization certainly is helping the developing countries to improve their standards in terms of living standards and their economic capability. It has the capacity to not only strengthen a country's economy but also has the potential to improve the quality of lives of individuals. However, there are both positive as well as negative views on the matter as proponents are upbeat about the potential of the phenomenon and on the other hand opponents are quite skeptical about it. But as an individual what I believe is that if implemented with keeping in view regarding the interests of the society and individuals, globalization can help a country to reach newer heights and can help them in strengthening their economy (Franklin, 2005).
In this review we will discuss about the globalization and the factors that effects globalization within a country. For that matter we have chosen china as our country of interest and we will discuss about the impact of globalization on an individual as well as on a country.
What is globalization?
Globalization is not a new phenomenon as the history of globalization is dated back to the 17th and 18th centuries with the colonization from the European countries and their invasion into the foreign territories for trade and business purposes. However, in the last century or so the term globalization has got new meaning and dimensions and have evolved as a major economic development tools for the developed as well as developing countries (chow, 2002).
Globalization can be defined as a system that promotes worldwide exchanges of national as well as cultural resources and crafts. Globalization in broader terms means free economic operations across the lines or the borders of the countries, without any impediments by the subsequent governments of the countries. The business proposition is spread out before commencing the business by the business organizations and after which they struck a deal with the government of the countries. In broader sense there are two types of this kind of economic operations, one, is the flow of services and goods from one country to another and second, the flow of capital from one country to another. The culmination of both these type of economic operations provides another kind of economic operations which is the production of goods and services in one particular country (Samuelson, 2004).
Whatever be the mode of economic operations the process of globalization do bring in some sort of transaction across the countries. New ideas, information, technologies and funds are allocated for business operations and that helps the host country to collect those learning and be better for their own business operations (Bardhan, 2006).
IMF defines globalization as stated below:
"Economic 'globalization' is a historical process, the result of human innovation and technological progress. It refers to the increasing integration of economies around the world, particularly through trade and financial flows. The term sometimes also refers to the movement of people (labour) and knowledge (technology) across international borders. There are also broader cultural, political and environmental dimensions of globalization that are not covered here."
China- The new global town
China has rapidly become the world's most preferred business destination for the business organizations across the world because of the availability of opportunities and resources in abundance. China's economic reforms and business development over the years is quite phenomenal and it can be dated back to the year of 1978 when the economic reforms took place under the leadership of Deng Xiaoping. He was the first Chinese leader to understand the importance of globalization and initiated the "open-door policy" and directed the economic reforms from a planned to a market economy (Chow, 2002).
Since 1978, China has now become the third largest trading country across the world after USA and Germany and all this can be accounted due to their open door policy and free trade. In the subsequent years after adopting the open door policy China has totally dominated the world market with its import and export policies that have transformed many a countries fortunes. The process of globalization has pit them froth with that of USA and other developed countries. The Chinese government have subsequently eased the trade policies and have made their door opens for the world to come to their land and set up their plants and factories (Dreher, 2006).
China's import policies have also allowed many foreign manufacturers to market their product in the Chinese territory and in turn china gained the economic power due to the large market pools which they have. This demand for imports from china has propelled significant economic growth of the other countries of the world. Initially china was a bit reluctant about their imports and took a mercantilist stand and imposed some restrictions on their imports but after the rapid expansion for their exports the table took a turn as some of the countries that also includes USA looking to put some kind of imposition on Chinese exports (Collier, 2008).
In between all this trade talks what is important to understand is that the globalization has definitely helped China to become one of the economic super power of the world. In 2001, China was drafted into the world trade organization (WTO). The WTO membership requires its members to lower their tariffs for all agricultural products as well as for manufacturing also. This lowering of tariffs helped the Chinese manufacturers to increase competition and that in turn provided cheaper products for the Chinese consumers (Collier, 2008).
The huge flow of foreign trades into the country has tremendously triggered economic growth in the country in three most important aspects of economic growth. Firstly. China got international specialization that enables them to produce more goods than the domestic demands for the goods that are historically produced in china. Secondly, the country's national output increased as the aggregate demand increased after the increase in exports increased. Thirdly, the foreign investment along with the trade has brought in newer technology and the new methods of management that has helped Chinese companies to increase their productivity (Doyal, 1991).
Foreign investments in China
Foreign direct investment (FDI) inflow into the country has been good for decades now and especially after the new trade policy of 1978 has been instrumental in promoting the economic growth of China. The economic reforms of 1978and the open door policy has completely changed the dimensions 180 degrees that was warmly welcomed by the whole world and that enabled the Chinese manufacturers to attract new investments into the country. It was evident in the year 2001 when a total of 50 billion dollars were utilized. The huge inflow of foreign investments has provided Chinese manufacturers with financial and physical capital, management skill, new and modern technology. However, FDI is not a driving or the fundamental factor in the rapid growth of Chinese economy but it is one vehicle that propelled economic growth of China (Nelson, 2015). There are three most important fundamental factors that are responsible for the growth that China has attained and sustained over the years namely:
Availability of high quality human resources and capital which includes hardworking as well as skillful laborers and highly resourceful entrepreneurs.

Effectively as well as sufficiently functioning market institutions.

The position of a late corner that can easily adopt the new and modern technology from the developed countries.
Al these three fundamental factors have seriously enabled china in attracting FDI.
External environmental factors that impacts globalization in china
External environment which is also known as macro environment is consist of entities, conditions, factors and events surrounding an business organization or institution that influences its choices and activities and helps in determining the opportunities and risks. Setting up business in foreign locations can be very challenging as business organizations have to face stiff challenges in forms of internal as well as external environmental factors of the host country. Globalization has made host countries to make things conducive for the foreign companies to establish their business entities within their countries (Anthony, 2016).
There are many external factors that drives globalization in the process and that are responsible for the smooth transition of business within a host country. Some of the external environmental factors are:
Socio-cultural

Political

Legal

Ecological

Financial

Technologies
These are some of the most important external or macro-economic factors that foreign companies tend to look into before foraying into foreign markets.
China have clearly disposed many trade barriers after the economic reforms of 1978 for foreign companies to come and invest in china. However, China being a communist country there were still several challenges that the foreign companies have to face before setting up their business entities in china. In the below section we will discuss about the three most important external environmental factors that were instrumental in making china the most preferred investment making destinations across the world and how it has impacted globalization (Chen, 2016).
Socio-cultural impact
The most important aspect of globalization is its impact on the society and the culture of the host country. The inflow of people from foreign countries into the host country is somehow good for the natives as they will be able to see a whole new culture from the new people they will meet. It helps in creating a homogeneous world where new countries adapt the culture of others or which suits them best. However, companies must be aware in terms of placing their products within a foreign country as they have to modify their products as per the taste and likeability of the local people (Murphy, 2017).
China is a culturally rich countries and the culture is shared and passed through generations which certainly make their habits hard to break. And for that matter companies and business organizations must look to make products that are compatible with the Chinese culture. A marketing mix is effective within the country if it respects the local culture (Clark, 2017).
Political impact
China as well know is a communist country. Chinese communist party along with eight registered small parties are in hold of the view that all the resources available in china must be owned and shared by all the people and not by any enterprise so that it can allow the society to develop. Chinese government in the country controls all the industries and productive resources and this results in government determining jobs, price, production and education and all as the main objective of the government in doing so is to provide inclusive human welfare rather than profit making. There is not much opposition from opposition party as they do not hold much power. All this is beneficial for foreign companies to make inroads into the Chinese territory as they can easily strike a deal with the government if the proposal is good and for the benefit of society (Jalil, 2011).
Technological impact
Technology has always been the key for the development of economy and infrastructure of a country and for that matter china has evolved as one of the most techno savvy country across the world. And the main reason behind their technological superiority is the exchange of newer and modern technologies with the foreign companies and business organizations that make investments in the country. China's science and technology (S&T) capabilities are well known and has always been on a rise since the economic reforms of 1978. They spend a good chunk of the FDI for strengthening their research and development wing and for that matter they always come up with newer products that is both cost as well as consumer friendly. The FDI along with imported technology and modern equipment have continuously poured into china and that have made the Chinese economy stronger and stronger with each passing day (Bradsher, 2010).
Personal impact of globalization on an individual
Globalization do bring a new sense of quality of living across the world as one can now have all the riches and goodness of different cultures of the world at their own door step. The ethnicity of local people can taste the new ethnic culture from other parts of the world. The individuals have now chance to improve on their quality of living as they can ow exchange newer ideas from different people from other parts of the world (Hiroshi, 2006).
As of me, I can personally vouch that globalization has a positive impact on me and have made my life both in terms of personal as well as professional front a lot more happier and successful. The new opportunities that are now available for me on work front is also exciting as now I can work with multinational companies at the comfort of my home. The quality of lives has also improved drastically as now we can learn a lot from the western culture and in turn can introduce them to our culture. On the flip side we can say that globalization has made the world a more homogeneous as people are adapting each other's culture and that is making the whole world one singular place. Whole in whole one can say that despite some shortcomings, globalization has truly a lasting impact on an individual and also on a country. China is one prime example of that.
Conclusion
Globalization is an old process that can be dated back to many centuries and yet it has hold its ground amidst all the chaos and only evolved as one of the most important aspect of economic growth across the world. China after their economic reforms in 1978 has warmly adopted the open door policy of economy and since then have charted newer heights in terms of economic growth. It definitely is one of the most preferred destinations for the business organizations to expand their business. The external environmental factors do have its saying in these forays but the Chinese government has ensure that these factors must not act as barriers in the way of development.
References
Allen, Franklin, Jun Qian and Meijun Qian, "China's Financial Reform: Past, Present and Future" to appear in Loren Brandt and Thomas Rawski, ed. China's Economic Transition: Origins, Mechanism, and Consequences. University of Pennsylvania, Wharton School, mimeo, 2005.

Chow, Gregory C. Knowing China. Singapore: World Scientific Publishing Company, 2004.

Samuelson, Paul A. "Where Ricardo and Mill Rebut and Confirm Arguments of Mainstream Economists Supporting Globalization," Economic Perspectives, 18: 3 (Summer, 2004), pp. 135-146.

Chow, Gregory C. China's Economic Transformation. Oxford: Blackwell Publishing Company, 2002.

Bardhan, Pranab. 2006. "Globalization and Rural Poverty." World Development 34, no. 8: 1393–1404.

Clark, William C. 2000. "Environmental Globalization." In Governance in a Globalizing World, eds. Joseph S. Nye and John D. Donahue. Washington, DC: Brookings Institution Press: 86-108.

Bernard, Andrew B, J. Bradford Jensen, Stephen J. Redding and Peter K. Schott. 2007. "Firms in International Trade." Journal of Economic Perspectives 21, no. 3: 105-30.

Collier, Paul and Jan Willem Gunning (eds.). 2008. Globalization and Poverty Vol. I. Cheltenham: Edward Elgar Publishing Inc.

Doyal, Lan and Ian Gough. 1991. A Theory of Human Need. London: Macmillan.

Dreher, Axel. 2006. Does Globalization Affect Growth? "Empirical Evidence from a new Index." Applied Economics 38, no. 10: 1091-1110.

Keith Bradsher (5 July 2010), "China Fears Consumer Class Impact on Global Warming", The New York Times

Jalil, Abdul and Feridun, Mete (2011) Long-run relationship between income inequality and financial development in China. Journal of the Asia Pacific Economy, 16 (2). pp. 202-214. ISSN 1354-7860 (print), 1469-9648 (online) (doi:10.1080/13547860.2011.564745)

Clark, Hunter; Pinkovskiy, Maxim; Sala-i-Martin, Xavier (April 2017). "China's GDP Growth May be Understated". NBER Working Paper No. 23323. doi:10.3386/w23323.

Chen, Xiangming; Ogan, Taylor (22 December 2016). "China's Emerging Silicon Valley: How and Why Has Shenzhen Become a Global Innovation Centre". The European Financial Review – via ResearchGate.

Nelson D. Schwartz; Rachel Abrams (24 August 2015). "Advisers Work to Calm Fearful Investors". The New York Times. Retrieved 25 August 2015. Even the most pessimistic observers think China will still grow by 4 or 5 percent

IMF, 2002.
Looking for best Marketing Assignment Help. Whatsapp us at +16469488918 or chat with our chat representative showing on lower right corner or order from here. You can also take help from our Live Assignment helper for any exam or live assignment related assistance.