QUESTION
Write a 2000 Words Statistical Analysis on Nagoya university -Nation University Corporation
Country :: Japan
ANSWER
National University Corporation – Nagoya University
Table of Contents
Introduction
Understanding their strategy
Parent-subsidiary network analysis using Net Draw
Figure 1: Country Code
Figure 2: Between's with the Country Code
Figure 3: Closeness with Country Code
Figure 4: Country Code with Degree
Figure 5: Country Code with Eigen Vector
Figure 6: Country Code with Employees
Figure 7: Country Code with Patent Counts
Figure 8: Country Code with University
Figure 9: Country Code with Turnover Lay
Performance Analysis and Implications
Conclusion
References
Introduction
Nagoya University was established in 1871 as a temporary medical school, which became Nagoya Imperial University in 1939 and renamed as Nagoya national university in 1947 after becoming a Japanese national university. Also known as Meidai, it became a Japanese national university corporation in 2004 after a partial privatization due to increased autonomy. It offers a number of comprehensive undergraduate and graduate program to students. Famous for its higher level research and numerous patents owned, it is among the highest ranked institutions of Japan. It comes under the consumer discretionary sector and consumer services industry, with its sub-industry as Educational services (Bloomberg, 2018). Located in the center of Japan, the place plays an important role in the country's business and industrial network. Apart from the local education programs, it also provides study abroad, student support services, and international activities. It consists of 5 main subsidiaries and 11 branches. Over the years, it has become one of the renowned universities in the world.
Understanding their strategy
Nagoya University has always maintained a free and vibrant academic culture. As an educational institution, their fundamental mission is to become the base of knowledge creation and cultivate highly talented people and nurture them as leaders. The corporation aims to pursue its goal of contributing to the humankind well-being and happiness. They conduct many researches and provide educational programs on all aspects of human beings, society, and nature. According to the Academic Charter of Nagoya University enacted in 2000, their aspiration was to cherish the harmonious development of human nature and science along with producing world class research outputs and cultivating courageous intellectuals to effectively utilize their rational thought and creativity and contribute to society through research and education.
Nagoya University Corporation has been related to the societal development around that place with an aim to create a business driven societal transformation. Apart from providing education and conducting researches, the corporation also aims and plans for the future development and solution to problems associated with the regional society such as cultural, political, economical issues, etc. For achieving this goal, they are constantly putting endeavoring efforts into pioneering ideas and proposals through fostering cooperation and partnerships with its local community, local companies, and local administration.
The corporation is already improving its performance and ranking on a global level. They recruit some of the most talented faculties and individuals from across the world and train them to deliver their best results in an effective manner. They want to accomplish all their goals and position themselves as performance and quality driven.
As a National University Corporation, the management of Nagoya University should try to challenge and question their leadership level executives. Their leadership needs to explain the importance of cultivating talented people and creating knowledge to the faculty, staff members, and society. They need to establish a new system renewing the corporation for utilizing the unique capacity and experience of all university members, who will have a better source of knowledge.
Parent-subsidiary network analysis using Net Draw
Nagoya National University Corporation has quite a few attached corporations/subsidiaries, most of which are present in Japan itself. The subsidiaries are either partially or completely owned by Nagoya University. The share of a parent company in a complete business is 100%, whereas it has to be above 50% for handling various roles, management, and operations of the subsidiary. Subsidiaries are an integrated business part of the organization, and they play a crucial role in handling the operational execution and control, affecting the whole decision making process (McKinsey & Co, 2016). Centrality sensitivity analysis has been performed for maintaining fresh network visualizations and measuring the comparative significance of different nodes. It can be represented by certain node-attached diagrams and simple layouts in a graph. There is also a clustering method analysis, where several nodes are segmented into clusters based on their inner and outer group connections. Combining these two visualization and analysis techniques, one can obtain a step-wise formation of an upgraded level network, with absolutely clear pictorial representations.
This project is focused on the operational working of Nagoya University as the main entity and related corporations as its division of working. The models discussed will give an idea about the important centers of the network channels of Nagoya University and the details of their current resources and operations.
Figure 1: Country Code
In the above figure, it can be seen that the network of National University Corporation, Nagoya University is mostly surrounded by same country corporations (except Solas Science and Engineering Co. Ltd). Kindly note that different sizes of squares represent different countries. For the primary network of Nagoya National University Corporation, it can be observed that only the unidirectional reporting is taking place. The Nagoya Corporation is reporting a relationship with Sekisui, Clariant, Ricoh Company, and JNC Corporation while Tokyo Institute of Technology, Mitsubishi Materials Corporation, Solas Science and Engineering Co. Ltd, and Nippon Shokubai are reporting a relationship with Nagoya Corporation.
Figure 2: Between's with the Country Code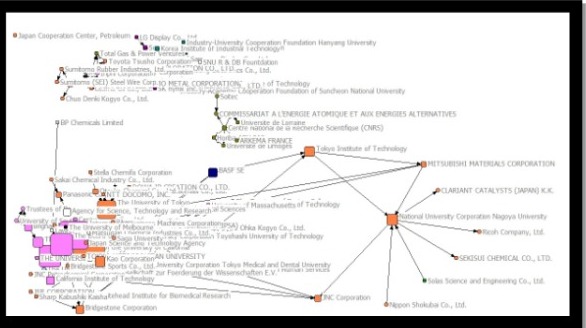 The above figure represents the betweenness of the nodes. In other words, it can be said that it represents the shortest path between any two individual pair of the network. After determining the shortest path, the method focuses on assessing the path's quality between nodes, which would further decide the betweenness centrality. The measure of this betweenness is based on the assumption of information primarily being flowed over the shortest paths between any two nodes. It can be observed from the graph that JNC Corporation, Mitsubishi Materials Corporation, and Tokyo Institute of Technology are acting as bridges between nodes for the network of Nagoya University. Some of the channels have formed clusters here with the intra-distance between their group is very less and inter distance being considerable one. Once the calculation of these distances is done and the network is optimized, it becomes easy for mapping out each and every navigation through all parts of the network. The betweenness between the nodes is calculated by the formula [(n-1)*(n-2)/2]. The betweenness for the National University Corporation, Nagoya University is found out to be 138 units, whereas it is 111 for Tokyo Institute of Technology, 57 for JNC Corporation, and 39 for Mitsubishi Materials Corporation, while all other corporations having zero value.
Figure 3: Closeness with Country Code
In the above figure, the closeness measure is representative of the average distance from one node to another node in the network. According to this measure, each node is scored on the basis of their closeness to all other nodes within the specified network. It calculates the shortest path distance between all nodes, and then each node is assigned a score which is based on its sum of shortest paths. It helps in finding out the individual nodes which can be most effective in influencing the entire network in the minimum time. From the above figure, it can be seen that clusters have high closeness within their members and it gives a high closeness centrality for the network. For Nagoya Corporation, we can observe there is hardly any difference in size of the squares for the primary network and central element.
Figure 4: Country Code with Degree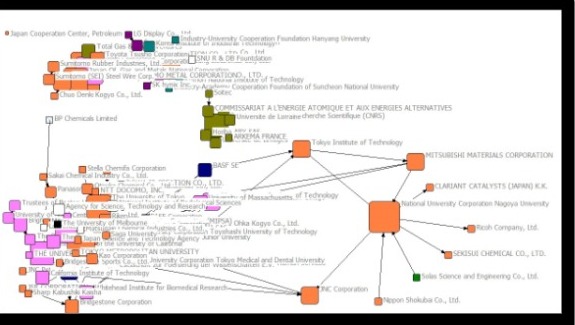 Degree is often considered as a highly effective measure of importance or influence of a node. The degree of a node in a network represents the no of connections it has to other nodes. Degree centrality for a node is calculated by assigning a score which is completely based on the number of links held by that node. In other words, it tells us about the no of direct connections that a particular node has with other nodes in the network. It helps in finding out the networks which can quickly provide a wider base for connection. From the above figure, we can see that the National University Corporation, Nagoya University is directly connected to 8 other nodes. So, its degree will be equal to 8. Similarly, the nodes connected only to it have 1 degree. This figure will allow us to observe the direct links between all nodes of the network.
Figure 5: Country Code with Eigen Vector
Eigen Centrality measure is similar to Degree Centrality, in the sense that it also measures a node's influence on the basis of no of direct links it has to other nodes within the given network. However, it goes far beyond this and also measures the strength of the connection, the no of links the connected nodes have, and continued for the whole network. It is very helpful in determining the influential nodes which can impact the entire network (Sci.unich.it, 2016). It is regarded as an old method of measurement for ranking. Nagoya University has a very low Eigen vector, as observed from the above figure, and subsequently, all of its direct links have negligible Eigen vectors.
Figure 6: Country Code with Employees
Different subsidiaries provided in the network have varying no of employees, as per their requirement. The information about the no of employees in the parent corporation has not been provided in the dataset. Out of the directly associated networks, Ricoh Company Ltd. has the highest no of employees.
Figure 7: Country Code with Patent Counts
Higher level educational institutions and Innovative companies are very focused on research perspective. Whether as scholars in college or as the Research & Development team, people work very hard to file patents in their names or company's name. It is a direct representation of the performance of university in research and scholar works. Ricoh Company owns the largest no of patents in the direct network of Nagoya University, followed by the parent corporation itself hovering around 1/9th of the former's value. From the below figure, we can see that only Tokyo Institute of Technology and Nagoya University National Corporation have a university under them, which certainly affects the researches undergoing in the organization.
Figure 8: Country Code with University
Figure 9: Country Code with Turnover Lay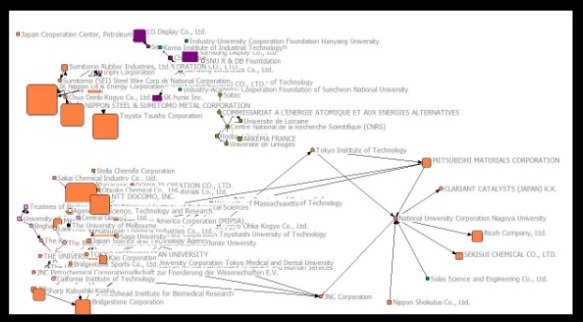 Mitsubishi and Ricoh were the two high turnover generating direct-linked corporations for Nagoya National University Corporation, followed by Sekisui Chemical. The subsidiaries of the corporation have provided a strong foundation for the future step ahead, and associations with these corporations are going to benefit to Nagoya University in a long-term, provided that they slightly modify their operational procedures.
Performance Analysis and Implications
Nagoya University aims to highlight outstanding performance on a global level and enhance the quality of service for their end users. They should try to improve the operational system of the organization. Recent establishment of the Center for Student Counseling for both Japanese and International students show the seriousness of the situation. Its main aim is to motivate students to tackle their own problems by just guiding them through verbalized and organized discussions. They have also started Business Capacity Development Center programs under the umbrella of Educational Support Programs. It allows students to undergo business internships and live simulations of whatever they have learned in the classrooms. It inspires students to go beyond the simple use of their specialized knowledge and skills for applying it to various sectors in the real world. There are many other initiatives by the organization which helps in cultivating young human resources and making them ready to contribute to the society.
Conclusion
From the above social network analysis and research, it has been evident that the centrality measures have been well-connected for the Nagoya University. However, their impact on the whole network is still not considerable enough due to their improper coordination between the linked nodes and subsequent connections. They have recently introduced new programs and new steps towards being one of the leading global educational corporations. The students are motivated to perform the research works, and the post-graduate and doctoral participants are provided the international level business programs for applying their knowledge to the real world to impact the society and improve the well-being of the human race.
References
1. Linton. C Freeman, 2004, The development of social network analysis, University of South Carolina
2. Noel M. Tichy, 1979 Oct 01, Social Network Analysis for Organizations, Academy of Management Review
3. Gueorgi Kossinets, 2005 Nov 29, Empirical Analysis of an Evolving Social Network, Stanford University
4. Peter D. Hoff, 2012 Jan 01, Latent Space Approaches to Social Network Analysis, Journal of the American Statistical Association
5. Company News Release, 2018 Oct 17, Toyota Boshoku begins joint research with Nagoya University on the effects of tide generating force, Toyota Boshoku
6. Temku Higashi, 2014 Oct 07, Spotlight on Nagoya University, Springer Japan
Looking for best Statistics Assignment Help. Whatsapp us at +16469488918 or chat with our chat representative showing on lower right corner or order from here. You can also take help from our Live Assignment helper for any exam or live assignment related assistance.