QUESTION
HAIER GROUP – Internationalization Strategy
1. What are the main features of Haier's internationalization strategy since early 1990s and how does it differ from the pattern of international development typical of Western enterprises?
2. How successful has Haier's internationalization strategy been and why?
3. What are the principal features of Haier's management system? In what ways do Haier's principles and methods of management differ from those deployed by Western companies? What lessons might be drawn by a) other Chinese companies and b) by Western enterprises?
ANSWER
Haier INC – An Analysis
CONTENT
About Haier
Strategic analysis
SWOT
PESTLE
ANALYSIS
Feature and differentiating factors of Haier Strategy
Success Factors For Haier
The main principles and differentiating factors of Haier management to Chinese and European Companies
Conclusion
References
About Haier
Haier is a worldwide Chinese brand and works in the production and retailing of family appliances and consumer electronics. Being Established and now headquartered in the Qingdao Shandong area of China (Haier.net) .The Company creates and plans a scope of home appliances including refrigerators, microwave ovens, cell phones, laptops, washing machines, and even TVs. The organization's worldwide income for the year 2017 was 241.9 billion RMB, a year on year increment of 20% from the earlier year incorporating a 25% ascent in household income, while benefits expanded by 41% (Xinhua 2018).
Strategic analysis
SWOT
STRENGTH
It has one of the world's highest market share in white goods
It is among the top 20 most trusted brands in India
Haier has strong advertising
It is a leader in China in volume in the major appliances market
It has reported constant growth in international reach
Haier has increasing retail footprint
Major acquisitions have helped in strengthening the market position
WEAKNESSES
They are mainly concentrated in China
Volume sales are mostly in China
Haier depends a lot on the government subsidies in China
OPPORTUNITIES
Acquisition of Sanyo brand has given Haier greater foothold in Japan

There are high growth possibilities in economies like Vietnam.

Its wide product range across price segments helps it play well in markets like India

More tie-ups will give Haier a global perspective in Europe and US

Following the "three-step strategy" of "going out, going in and going up"
THREATS
Rising wages in China might exert pressure on its margin

There is a possible decrease in major appliance spending in China

In the premium segment where Haier is present through its Casarte and Leader brands is estimated to have a slower growth
PESTLE:
Numerous Chinese firms hoping to gain on the US firms have been obstructed by the presentation of the Foreign Investment Risk Review Modernization Act (FIRMA) which was marked into law on 13 August 2018 by Trump (Klein 2018; Nash-Hoff 2018). This US law is intended to prepare for the hazard to US national security presented by procurement of key of US advancements by different nations (Nash-Hoff 2018). Aside from being viewed as a national danger, China has raised more worries of overwhelming the US as a mechanical power through putting resources into and obtaining USA firms and key advancements (Nash-Hoff 2018; Klein 2018). While FIRMA does not single out China, despite everything, it plans to abridge the utilization of Chinese mechanical organizations by Beijing and other remote governments against the US government particularly considering ZTE pitching innovation to Iran, the bill will contrarily affect Chinese organizations like Haier which have speculations or aims to put resources into the USA (Lelyveld 2017). The turnaround is likewise occurring with the legislature of China's confinements on abroad ventures. China's administration and the People's Bank of China ventured in to control outbound direct speculation because of the weight on the Yuan and falling stores. As per Lelyveld (2017), this will prompt a drop in Chinese interests in the USA. Expanded alert in China's remote outpourings will probably cause a decrease in Haier's outward interests in the USA went for procuring key advances and venturing into new markets (Lelyveld 2017).
As indicated by BBC News (2018) China's economy developed by 6.9% in 2017 beating Beijing's yearly desire for 6.5%, major achievement from earlier years. The year's monetary development fortified the nation's economy and advanced the supply structure also creating open doors for organizations in China (Lingging 2017), a little marvel Haier's household showcase income ascended by over 25% in 2017 (Xinhua 2017).
As per Mintel (2017), China's urbanization rate is relied upon to move from 60% in 2020 to 70% in 2050 (Mintel 2017). With China's enormous urban populace, this will be an extraordinary open door for family unit organizations like Haier in China. As indicated by Business Wire (2017), the worldwide family machine showcase is evaluated to achieve 342.82 billion US dollars by 2022 with a noteworthy increment popular significantly from creating nations like China, India and Middle East.
Twenty to thirty-year-olds are prominent for having unmistakable premiums and for their huge dimension of purchasing power with regards to specific markets like innovation and leasing. As per Parnes (2017), innovation is so imperative to twenty to thirty-year-olds that they need it in their homes just as parents with 86% of recent college grads willing to pay more for a brilliant home. As indicated by Tapper (2017), 70% of Chinese twenty to thirty-year-olds are mortgage holders with a proprietorship rate among them practically twofold the worldwide normal. This will be an extraordinary open opportunity for an organization like Haier to move their savvy home innovation just as a household machine showcase.
Smart homes are one of the most recent advancements in the home apparatus world changing the manner in which machines and individuals connect. As indicated by Weinreich (2017), smart homes are houses including clever innovation that streamlines and computerizes ordinary exercises like turning on the lights, shutting the entryway and changing settings of the indoor regulator. Haier has built up the absolute first arrangement of complete keen home arrangements making it one of the greatest smart life arrangement suppliers (Haier 2018). The innovation is quickly turning into an incredible open door for Haier both in China and the worldwide market as it increases open consideration and mass reception (Weinreich 2017).
Haier has had legitimate wrangles with South Korean gadgets goliaths Samsung, and LG Electronics for disregarding its licenses in the US. As per Herh (2017), Haier documented a body of evidence against Samsung, LG among different organizations for encroaching on its licensed innovation rights and licenses in the US. Haier guaranteed that these organizations upset its reasonable challenge identified with ATSC (Advanced Technology System Committee) patent by conspiring with MPEGLA the biggest patent administration organization on the planet (Herh 2017).
The legislature of China has set up a natural crusade which has seen numerous Chinese organizations punished for overlooking the ecological laws of China (Corner and Browaey 2017). Accordingly, Haier has done the obliteration of an 80M smokestack at Qingdao Haier modern park to cut sulfur dioxide discharges (Haier.net).The organization not just gives condition cordial items to its shoppers through its green sail exercises however has additionally enlivened youth volunteer gatherings to plant trees through Love Haier green motivation tree planting occasions (Haier.net).
ANALYSIS:
Feature and differentiating factors of Haier Strategy
The main features of Haier's Internationalization strategy differ a lot from the pattern of international development of typical other western enterprises. We will discuss them serial as following –
a) "Locally designed, locally made, and locally sold" – It is one of the most differentiating strategies of Haier. Most of the western companies though go for locally made, but very rarely actually designs locally to cater to the local need. So, this was a huge benefiting point for Haier to get the local connection which there were targeting for. They did not want to use the cheap labor of China to fight in the global market but wanted to create a reputation for themselves among the customers of the world as a leading company in the home appliances sector. It was one of those companies which understood that localization plays a big role to tap an unknown market. We can see that nowadays many foods and beverages company from the western world and following the same suit in the Asian market.
b) Target developed markets – Very rarely, we have seen that western companies are targeting developed countries. The general trend is that they tried to tap into the new
market of the undeveloped countries like India Africa etc. But here went completely opposite by targeting the already developed markets of Japan Europe and North America. Haier was clear in the philosophy that they did not want to fight in the smaller markets with a smaller company as it might hurt their intention of being the biggest home appliance player in the world. We also see from the case that Mr. Zhang comments that to improve the skills of the company they must fight with the top players.
c) Hiring local managers in new geography – Unlike Western companies who send their own people to other places or countries to try to capture the market and also have a link to their own companies, Haier acted differently and recruited local managers for the expansion of their products or business in that particular country. This was done with the sole intention that local managers will have a better understanding of the culture of that particular country, political and economic scene in that country and thus will be in a much better situation to access the feasibility of the expansion of the products or the business in that particular country rather than sending a person from the Main country to a new one (Arie Lewin (2017)).
d) Setting up R&D plants – They set up R&D plants in the foreign countries to ensure that they can maintain the quality and the design tailor-made for that particular country and does not depend on the headquarters in China to send them the blueprints from which they can copy as they believed that every market behaves differently and the Chinese thought process might not act correctly for the company in that particular country.
Also, there were some similarities with western companies which the company followed in their international expansion like acquiring various other small companies in the new markets to gather strength and also to tap in the supplier market in that particular country. From the case, we see various examples of companies in the US, Europe, and Japan which Haier actually acquires smaller companies there just to ensure that they gain operational capabilities to serve the customers better(Arie Lewin (2017)).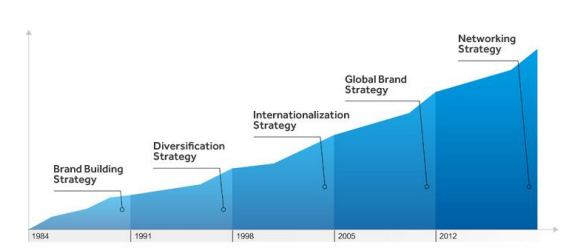 (Source: haier.net)
Haier's internationalization strategy has been very successful for all the reasons which I have mentioned above. It was the correct mix and one in their mind taking a Chinese company to the top of the world. They did not stick to a certain philosophy of their homeland and diversified according to the local needs to the foreign companies. This being the most important things which contributed towards the success of Haier in becoming the market leader in the home appliances sector ahead of LG, Samsung, etc.
Another important factor which contributed towards the success was identifying the correct companies to acquire in the new market which would benefit them both in the upstream and downstream of the business. This selection was not made randomly but was made actually with the consultation of the local managers with the headquarters in China. There was a perfect balance between the thought process that is going around in China and also with a company that Haier is trying to acquire. We can see from the case that they selectively buy the domestic portion of Sanyo instead of buying out the whole company from its parent Panasonic. So this clearly shows that a proper thought and time went behind every decision they use to take.
The third reason for Haier's success was focusing on quality and R&D instead of cutting down prices to capture the new market. They had a belief in themselves that with good products they would be able to surpass any of their competitors in any country. This focus on R&D also led the company to focus more on connecting people and slowly change their ideology from being a home appliance company to a networking company. They just did not want to connect it to the internal lives of the people but throughout the life of the people. This helped them to break the barrier between inside and outside and touch every touch point in the lives of human-being.
The fourth reason for the success was the amount of customization that they used to make according to the needs of the customer. Most of the western or US companies used to follow a standardized method of products and Haier brought in the differentiation in this aspect from other companies which shot their popularity high.
All this together combined, we can say that the forward-thinking process in the company and the ability to take risks along with the intent to fight with the top players of the world contributed together towards the success of Haier in the international market.
(Source: http://business.scoop.co.nz/2015/01/28/haier-takes-the-lead-in-global-appliance-brand-rankings/)
The main principles and differentiating factors of Haier management to Chinese and European Companies
Haier's management system was mainly a one-man show in which his ideas propagated throughout the company. Zhang Ruimin Had all the powers in the company that he derived from his political connections and his Past experience working as the Chairman and CEO. He came up the ranks of the company from a lower position to this position, and his ideology was a perfect blend between the Chinese traditional management systems and the western systems. He always believed in operational efficiency and focused on brand building and new product development. But he also adapted with time which is a very big quality any leader should be having. He restructured the whole China operations to a decentralized structure from a hierarchical structure for better functioning and to cater to the ever-increasing domestic requirements.So how was it different from the western companies? In there we see that the decision-making power is not with a single person rather a board which comprises of many people who take the collective decision towards the future of the company but in this case we see that a single person is taking all the decision by himself. This fundamental difference contributed towards the different policies which the company took as compared to the western competitors like focusing on local managers local products for the local customer needs.( Yuping Du (October 2016) )
There are various lessons which you can learn from both the Chinese companies and the western enterprises, but the main point of them all is following a mindset towards success. Copying each other won't be feasible because of the very fundamental thought process of the Chinese and the western companies are very different. Believing in that thought process decisions were taken, and both types of companies have their own success stories.
From the Chinese companies, we learn that Instead of having an ego is better to adapt to the local conditions of the local country and change or tweak your products accordingly to cater to the local needs. It gives you not only a new market but also increased revenue. From the
western companies, we learn that taking collective decisions can take you along the way both have their own positives and negatives also. (Burton, Richard (October 2016))
Conclusion
From the whole discussion above we can conclude that Haier was ahead of any other competitors in understanding not only the domestic market also the international market. The amount of customization and personalization the company brought to the customers in various countries differentiated them from the other companies who focused on standardization. Also, the correct mix of acquiring other companies and opening their own R&D centers helped them throughout. Apart from these points, he consolidated management at the head-quarter in China along with taking the local managerial talent for the expansion of the companies in various foreign markets contributed towards the success of Haier (Yuping Du (October 2016)). Haier also shows the imagination and aim that every big company in that position should have to think of total world dominion instead of just being happy as a market leader in the home town. Haier also shows a company that has the grits and the confidence to actually go toe to toe with the most established and the reputed of the companies in their main domain and countries of excellence or in other words in their own turf. This though gave Haier a huge obstacle and higher chances of failure but also took it on the road of not only making it a huge success story but a company that everyone knows about and reveres. Haier is still on its way of growth with steadily growing in areas like the Europe and Japan where it has not been able to be that much of success that it has been able to achieve in other countries (Frinas George (January 2015)), but it continues to push its way even in this and will surely be able to make a mark in there too thus making them the number one electrical and home appliances company in the whole world.
References
Essays, UK. (November 2018) 'International strategy of the Haier Group'

.

Retrieved on

15th

March 2019
Retrieved from:
'
.
Retrieved on
20th
March 2019
Retrieved from:
Jacob,Tyler (January 2015) 'The Haier Group: Improvement Upon Success.'

Retrieved on

20th

March 2019
Retrieved from:
Burton, Richard (October 2016) 'Haier biggest producer of White Goods'
Retrieved on 26th March 2019
Retrieved from:
http://mgmt.au.dk/fileadmin/Business_Administration/ICOA/Haier_Case__Final_ver_2.pdf
Yuping Du (October 2016) 'Haier's Survival Strategy to Compete with World Giants' Retrieved

on

27

th

March

2019
Retrieved from:
https://www.tandfonline.com/doi/abs/10.1080/1476528032000066703B?src=recsys&
Arie Lewin (2017) 'Enabling Open Innovation: Lessons from Haier
'
'
Retrieved on
01
st
April
2019
Retrieved from:
http://engine.scichina.com/publisher/CSPM/journal/IJIS/1/1/10.3724/SP.J.1440.101002?slug=abstract
Chen,Jin (2015) 'Haier Is the Sea: CEO Zhang Ruimin's Innovative Management'
'
Retrieved on
01
st
April
2019
Retrieved from: https://www.cambridge.org/core/journals/management-and-organization-review/article/haier-is-the-sea-ceo-zhang-ruimins-innovative-management/981CC55DAC31E56E4BB31F2F0F546CDF
The Economist (2017) 'Haier and Higher'
'
Retrieved on
03
rd
April
2019
Retrieved from: https://www.economist.com/business/2013/10/11/haier-and-higher
Kai, Peter (2017) 'Chinese innovation and Haier Model'
'
Retrieved on
03
rd
April
2019
Retrieved from:
https://www.theaustralian.com.au/business/business-spectator/chinese-innovation-and-the-haier-model/news-story/b9b044c87485b45acb9ee9002c712b58
PCQ Bureau (2019) 'GE Appliances and Haier Deliver a "Smarter Home, Better Life" with Transformative, Time-Saving Technologies'
'
Retrieved on
05
th
April
2019
Retrieved from:
https://www.pcquest.com/ge-appliances-haier-deliver-smarter-home-better-life-transformative-time-saving-technologies/
Looking for best Strategy Assignment help. Whatsapp us at +16469488918 or chat with our chat representative showing on lower right corner or order from here. You can also take help from our Live Assignment helper for any exam or live assignment related assistance.