QUESTION
Background
Operations Management (OM) is an important aspect of business (Slack et al, 2013; Greasley, 2013; Patton et al, 2011). Both service and manufacturing organisations use OM to ensure they are competitive and assist in providing and maintaining good levels of customer service (Johnson et al, 2012). Developing a system of an organisations operation can be advantageous both for both the customer and organisation (Bamford and Forrester, 2010). Subsequently, once a system has been developed and understood it should be possible to determine why the system works well, or not well, and to recommend possible production related improvements that will assist both parties concerned.
Task
In this assignment analyse a production system (service or manufacturing based) with which you are familiar; a shop, restaurant, transport system, doctor's surgery are all possible examples. Your tutor will give some guidance on your choice of organisation/case study. Your assignment should address the following questions:
Critically appraise how well the inventories and/or assets within the production system are currently managed.

Provide a detailed illustration of the key operations involved within your chosen production system presenting a logical operational flow.

From the illustration in point two, identify two points where the organisation's delivery system may fail to align its operational performance measures, clearly demonstrating your reasoning and understanding behind this.

Discuss how a lean approach could be utilised in the production system to potentially reduce the failings discussed in point three.

Identify three key findings discussing the extent to which the lean approach chosen may assist the production system with aligning its operational performance measures.
Format
Your assignment should be in a report format, being clearly structured using headings, sub-headings etc. It is not necessary to include an executive summary at the beginning of the report. Your assignment should be presented using Times New Roman (TNR) 12 font, 1.5 line spacing, and it should be approximately 3,000 (+/- 10%) words in length. Your word count is from the introduction to the end of the conclusion section.
You must endeavour to use theory explicitly at all stages, but do not spend too much time describing a theory. While you must be explicit about the theories, models, techniques etc. that you use, you can assume that the reader is familiar with them. What the reader requires is evidence of your ability to understand and apply the theory, and learn from in order to support the development of your findings and/or ideas.
You must cite all sources on which you have relied, for example textbooks, journal articles, web pages etc. using the Harvard Bibliographic referencing system. If you do not cite all sources, then you may be accused of plagiarism, and that in turn may endanger your success in passing the module. If you are in any doubt about how to reference your work, please obtain guidance from your tutor for this module.
Please do use diagrams, illustrations, tables, graphics etc. wherever these are helpful, and remember that these do not count towards your word limit. If you do use these, please do not put them in the appendices if they are part of your discussion. Appendices are the appropriate places to put supporting material, however, remember if the reader is satisfied with the main points of your discussion; the supporting information within the appendices may not even be reviewed.
Marking Criteria
Your assignment will be marked against the following criteria:
Evidence of your ability to use Operations Management (OM) theory in order to help you think in a critical way, and to develop an understanding of how key operational decisions are made within the chosen production system. (20%)

Evidence of your understanding of how different OM and Lean approaches could contribute to addressing the aim of your assignment. (20%)

Evidence of your understanding of the strengths and weaknesses inherent in various OM and Lean approaches in your chosen production system. (15%)

Evidence of your understanding of the limitations placed upon the OM and Lean options available to your chosen production system. (20%)

Your ability to convey your conclusions and recommendations in a reasoned, supported and credible manner. (15%)

Accurate grammatical and economical use of English. A good presentation standard using the report format. Appropriate citation of sources using the Harvard Bibliographic Referencing System. (10%)
The above criteria and the following grading matrix will assist in providing guidance as to the mark allocation.
Skills

70%

60-69

50-59

Less than 50%

Use of literature

Has developed & justified using own ideas based on a wide range of sources which have been thoroughly analysed, applied & discussed.

Able to critically appraise the literature & theory gained from a variety of sources, developing own ideas in the process.

Clear evidence & application of reading/theory relevant to the subject; use of indicative texts identified.

Literature either not consulted or irrelevant to assignment set.

Use of theory

Assignment demonstrates integration & innovation in the selection & handling of theory.

Insightful & appropriate selection of content/theory in key areas.

Most key theories are included in the work in an appreciated & straightforward manner.

Inaccurate or inappropriate promotion of content or theory.

Critical analysis of theory.

Assignment consistently demonstrates application of critical analysis & is well integrated into the text.

Clear application of theory trough critical analysis & critical thought of the topic area.

Demonstrates application of theory through critical analysis of the topic area.

Lacks critical thought/analysis/reference to theory.

Conceptualisation

Able to recognise consistency & reconcile inconsistency between information, using cognitive & hypothesising skills.

Consistent understanding demonstrated in a logical, coherent & lucid manner.

Demonstrates understanding in a style that is mostly logical, coherent & flowing.

Understanding of the assignment is not apparent.

Able to critically analyse many sides of a complex issue & resolve information conflicts. Uses a process centred approach to problem solving/needs assessment activities.

Problem Solving

Able to critically analyse simple issues & to recognise conflicts. Evidence apparent of a process approach to problem solving/awareness of needs assessment.

No evidence of attempt to be critical or to recognise or address informational conflicts. Problem solving/needs assessment is absent.

Application of theory to practice

Topic applied to personal, social & professional practice relevant & innovative.

Well-considered & appropriate application of theory to personal, social & professional practice.

Begins to demonstrate appropriate application to personal, social & professional practice.

Fails to apply topic to personal, social & professional practice.
Submission
As discussed previously, your assignment should be approximately 3,000 words (+/- 10 %) in length. Please ensure that:
Your name is clearly marked on the front of your title page.

You have a copy/backup of your assignment.
Please ensure you submit your work on or before the deadline, any late submittal will be dealt with as per University guidelines.
References
Bamford, D R and Forrester, P L (2010). Essential guide to Operations Management: concepts and case notes. John Wiley. ISBN

978-0-47068-816-8.

Greasley A (2013). Operations Management, Third Edition, John Wiley. ISBN 978-1-11997-854-1.

Johnston R; Clark, G and Schulver, M (2012) Service Operations Management: Improving Service Delivery, Fourth Edition, Pearson. ISBN 978-0273740483.

Slack, N; Brandon-Jones, A and Johnston, R (2013). Operations Management, 7th Edition. Pearson. ISBN 978-0-273-77620-8.

Patton, S; Clegg, B; Hsuan, J and Pilkington, A (2011). Operations Management. McGraw Hill. ISBN 978-0-0771-2617-9.
Learning Outcomes (from module specification) addressed in this Assignment.
Please remember your overall grade for this assignment will represent a judgement to the extent to which you have provided evidence that you have addressed the following learning outcomes offered in the module specification.
Critically analyse the theory, concepts and models of operations and information management and demonstrate an understanding of the importance of information management in global organisations.

Analyse and critically evaluate the ways in which operations are adapted in view of specific market culture and customer requirements, and the role and importance of operational excellence in various aspects of competitive advantage.

Use the basic tools and techniques to plan and improve all aspects of the operations function and understand the application of the control systems that can be used for operations management in a wide variety of environments.

Identify and utilise appropriate methods for collecting and analysing data related to operations and information management.

Locate, summarise and synthesise a range of information from published literature and electronic sources on operations and information management.

Use and evaluate a variety of tools for improving organisational performance

Manage effectively their own time and learning.

Improve their research skills, and data analysis and presentation. Manage their time to meet deadlines in both group discussions and in preparation of in-class activities
ANSWER
Contents
Introduction
Present inventory and process management system
The logical operation flow of the production system
The present delivery system with possible failure points
Lean Management
Implementing Lean into TNT
Problem 1
Problem 2
Findings to support the idea of Lean Management
Conclusion
Reference
Introduction
The company we will be discussing today is TNT (FedEx have acquired the company in recent past).
TNT, one of the largest logistics companies in Europe has the best on the road network in Europe and has served the continent and world quite long. Seeing the efficiency of TNT, it was a good buying option for FedEx who wishes to pose a challenge to DHL in the global market.
Present inventory and process management system
In the current scenario, the inventories or the assets are managed at multiple points during the overall transit of any consignment in TNT.
If we see from the sending end, the following are the places where the inventories are managed in a serial manner-
a) Collection Point – This is the first point on the overall line Where consignments or the inventories are managed. Here, a pickup guy collects the consignments from the points or in case of customer coming to a place to submit the parcel are collected. Each and every parcel has its unique id, and an AWB (Airway Bill) is generated. It is very important to manage the inventories at this point because This is the beginning of the overall line or production.
b) Local Depot – Once the consignments are collected either by pick up guy or by the delivery of the customer to any point all the Consignments or the inventories are collected and sent to a local Depot of the city where each and every consignment is sorted for the destination. All the domestic consignments sent to the domestic Depot are sorted and distributed elsewhere via car or train or Airways given the countries are large. Airplanes are assigned for the respective places in case the consignment is an international one it is sent to the country from which it will be transferred to the regional hub.
c) Country Hub – These acts as a central hub for the domestic consignments of a particular country and also as a starting point of an international consignment for a particular country to the regional hub. So inventory management becomes a huge thing here because the domestic and international consignment should not be mixed together.
d) Regional Hub/Airport – The regional hub or the airport is mainly operational for the international consignment or pan-continental where consignments or inventories from one continent Is sent to the other. Inventory management is prime importance because a single mistake and incurs a huge amount of cost to the company Each, and every consignment is taken special care individually to be sorted for the correct country or the correct continent.
Will explain with an example of how this works. Suppose you're trying to send a consignment from London UK to Melbourne Australia. So first the consignment will be collected from a local town and send to the country hub which may be somewhere near the Gatwick Airport in London. This is the local Depot. From here the consignment will be sent to Leipzig, Germany which is the regional hub of Europe. From this regional hub, the consignments will be flown to Australia which might be the regional hub for Oceania. And then the delivery will be done In the in the receiving end.
If we see from the receiving end, the following are the places where the inventories are managed in a serial manner-
a) Regional Hub/Airport
b) Country Hub
c) Local Depot
d) Delivery Point
We are not going into a description of each one of the points as they act in the same way as we have discussed in the previous sending End of the consignment.
In continuation of the last example, When the consignment is being received suppose in Sydney Australia which is the regional hub, as well as a country hub for Australia from there the consignments, are sorted, and the inventories are taken care of, and the concerned consignment is sent to Melbourne Australia via road. In the local Melbourne depot, the consignments are sorted to be delivered to the correct receivers.
The logical operation flow of the production system

The picture above depicts a detailed operational flow for an international consignment. For a domestic consignment, country hubs act as the central hub from where the spokes for different parts of the country originate.
Key Operations involved at each stage –
1. Local Distribution and Sorting Centres – Here they receive all the consignments from a particular town and sort it according to the destination and services involved. There are various services like a single day, express, normal, etc. Each type of service incurs a different amount of money and accordingly the time is decided.
2. Country Hubs – It is kind of similar to the local distribution centers, just that the capacity is much higher and the thus the stakes also. Also, all the vehicles management takes place here. This is a huge part of operations to track and manage all the on-road vehicles on time and on the route. Employee management is also an integral part of operations at the country hub. This place acts as the centralized office for all the employees as most of the work of any logistics company is based out of a depot or a hub.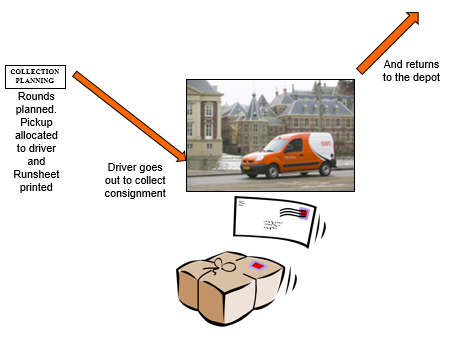 The present delivery system with possible failure points
The process described above has multiple loopholes because every company has their own models and different models work in different environments and different geographies in the world. So, this model might suit the company in local Europe but might pose a challenge to transfer any consignment in other parts of the world. Every model has its own advantage and disadvantages in based on the geography they're working in and the type of modes of transportation they are in a familiar with.
Here, in this case, we will be mainly looking for the following two important points where the delivery may fail to align with operational performance measures –
Having different sets of AWB numbers for domestic and international couriers and also for different geographies
One of the major pain points the company faces is using different sets of AWB numbers for domestic and international couriers and also for different geographies and how does it impact? Due to this, there is a huge replication of a WB number throughout the TNT system which does not allow them to integrate the different geographies and thus to pose multiple problems such as increasing cost and also confusion among the employees when the 2 different consignments of same AWB number comes together.
I'll explain with an example. Suppose there is a UK domestic consignment number 12345. And this consignment is going from London to Birmingham. Now suppose there is another consignment number 12345 coming from Lisbon to London. In the back end system, they still consignment numbers vary due to the coding system which is prevalent but the employee who is working at the hub for him or her both are the same so they get confused as in which consignment number is an internal international consignment number and which consignment numbers are domestic consignment number and do this confusion a huge amount of cost is being born with a company because the consignment might get lost or in confusion might get damaged.
Having multiple central hubs in a single country


This is another huge problem Which is faced by the company on a daily basis Now in the initial days when the Hub and Spoke system was not prevalent this having multiple help make sense but in the new concept with hub and spoke model, a single hub in a single country actually saves a lot of money and also helps in automation of the overall hub we can see that this company serves multiple hops in the UK or even in Western Europe and these do not serve the purpose. Single hub facilitates Is easy passage of consignments from one place to another with a less human touch and thus having a huge amount of cost for the company. In a comparative study with other clients, we have seen that logistics companies using a single having a single company are actually saving a lot more money than the multiple hub systems.
Lean Management
Before we move into how the company that we are talking about can actually implement the Lean Models let us first look into what a lean model actually entails. A lean model or lean philosophy is one that looks in the various aspects of the business and tries to make the business a much more efficient and active. It comprises of 5 main areas which we can talk in detail when we put them as the part of the solution to the problems that we have pointed out in the above-mentioned part. Though it was started by Toyota, it soon spread itself to various other companies and has become like a way of thinking and not merely a model to follow. Also, it does not particularly only point or is applicable for manufacturing and production industries but is right now applicable to various industries across the world.
Before we move into move depths of TNT and how lean can be an answer to them we will briefly write the five main components of Lean on which the whole philosophy is dependent
Situational approach

Process Improvement

Capability Development

Management System

Basic Thinking and Mindset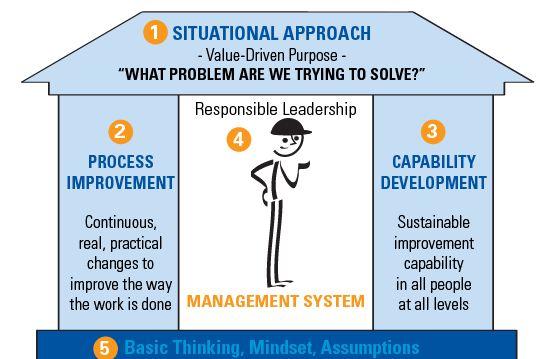 Implementing Lean into TNT
If we would like to implement the Lean way of thinking into the problems that we have pointed out in the above-mentioned para, then we can clearly put the problem into the various heads that Lean entails
Problem 1
This problem stems from the fact of having no way to differentiate between the packages that are targeted for international courier and the ones that targeted for the domestic ones as both are marked through different chains and though rare there are chances of the same number identifying the details of the package may be provided for two different packages
Situational Approach – The problem that we are trying to solve by this Lean method is the continuous confusion that plagues the workers as well as machine to determine exactly the destination and the details of two different packages when they might have same numbers due to going through two different chains which are mutually exclusive. This process is highly inefficient and leads to a lot of delays as well as in some cases return and thus huge costs
Process Improvement – The process improvement that we are suggesting here is something that is being followed in many of the bigger courier industries that is to create a coding system that precedes with a set of alphabets that not only point out the difference between the various packages but also helps to understand the different countries it is supposed to go to or if it is to be delivered in a domestic way. For example, if there were two packages that were having the same number 12345 and one of them had to be sent to the US and the other to be domestically delivered then the one that was to be internationally sent will have the initials IUS12345 marking I for international and the US for the country whereas the one for domestic will have DLO12345 where the D represents domestic delivery and the LO means to London. There will be a set of codes that will effectively identify the various countries that TNT servers or sends their couriers to and also a code for the local cities. This alphanumeric system will not only make this type of distinction much easier but will also help in creating a much bigger spectrum of possible package codes using the alphanumeric codes and numbers that would have in actuality depleted much faster had only the 5 numbers been used to create the package numbers.
Capability Development – This will be a collateral effect by the changes in the system as prescribed above. It will help in higher efficiency by the workers as the confusions entailing the previous system of the same number for multiple destinations will vanish. It might also help in reducing the workforce as a single person will now be able to handle a much bigger consignment. Thus leading to a leaner and more efficient worker base
Responsible Leadership – The leadership should base it as a stone that needs to be carved carefully without rushing. Ample training regimes should be undertaken, and this new system should be rolled out in phases and not at a rush
Problem 2
This Problem stems from the fact that multiple points of independent governance might only lead to excess and unnecessary checking and protocols and might, in this case, add to the delay in deliveries that will be a bigger woe for TNT
Situational Approach – This is supposed to solve the amount of lag time that the parcels through TNT takes due to the multiple hubs and regional headquarter structure that results in two separate cities in the country to fall under two completely separate jurisdictions with their own set of rules and procedures that every courier has to go through thus resulting in a far more tie wasted during these procedures as well as a lot of mudslinging between the headquarters when there is any sort of problem or packages get lost
Process Improvement – The process improvement that we are suggesting is now being followed by multiple airlines which rotate around the fact of having a single hub or center that almost every package goes through and that takes care of routing the packages to their destinations. Now on the first glance, it might look that this will be taking a higher time as packages from different areas will have to pass through a central location but we need to understand this will be applicable for a single country or every country will have a different headquarter. For countries which are bit on the smaller size like the UK transferring all the packages through a single central hub in not only possible but is also more lucrative as you will be able to invest heavily in that one location thus making it highly automated and fast which would have been really harder if there were multiple ones. Also, all the packages will be kept track of without any sort of ball passing and will thus result in a much more foolproof and efficient system
Capability Development – As mentioned above the importance given to one single location will result in high development of that hub and will result in an improved and centralized system that will help in faster deliveries and efficient supply chains
Responsible Leadership – The leadership in this lean method should make sure that although there is a single location that is being given the most important to that doesn't result in a complete shift of all priorities and development from the other locations. A company can only truly grow if there is a combined development
Findings to support the idea of Lean Management
There have been multiple companies who have thus acquired the lean approach and successfully seen able to apply it and get advantages as well as improvements from it
In combining the solutions that we have advised the company with some of the solutions that have been used by other famous company we can cite a few examples
Intel – In accordance to the solution that we have to highly automate the system that TNT follows in their centralized hub we can see a similar example in the workings of Intel who by employing a singular point of productions along with multiple cost-cutting as well as stringent standards placed helped Intel to actually bring down the number of days required to bring forth a microchip from 10 days to 3 days. This goes on to show that strong centralized systems with an efficient system of operation may help to reduce the unwanted frills of a business heavily
FedEx – FedEx who has recently acquired our company the TNT is also an epitome of Lean operation that I also a supported to the process that we have mentioned in the first part of the solution of creating an alphanumeric number that will help to create a code that will instantly help the distributor to get information like whether package is for domestic or for international purpose etc. This has helped FedEx to come out as the number 1 in the delivery industry with industry standards and excellence being conferred upon them
Southwest Airlines – The southwest airlines which is a legend among the airline industry of the world as being the most used low-cost airline possible. The lean methodology, in this case, has taken form in part of their culture which personifies itself with the same pilot cleaning the airplane between the flights as well as having a record of keeping the flight airborne for the most time during its lifetime. The same is taken up by FedEx with a culture that promotes Lean thinking as well as efficient management, going beyond what is required from the worker to create a culture that empowers high efficiency with minimal costs the above solutions can truly find their utmost potential and help the company to reach new heights
Conclusion
Though as given above the theoretical application of Lean management is possible and also provides a rosy picture it is through integrating not only lean management but also lean thinking which goes beyond just applying the concept but actually living by it which is important to get the wonders that are possible through Lean Management truly. If applied by TNT the solutions above along with the collaterally developed culture if nurtures can truly take the company to reach new heights
Reference
Mckelvy, Jennifer (2012) 'Safety leadership: Lean principles: The connection to safety.'
Retrieved on 6th February 2019
Retrieved from:
https://www.safetyandhealthmagazine.com/articles/safety-leadership-lean-principles-the-connection-to-safety-2
Strategor (2012) 'A History in Lean Management'
Retrieved on 6th February 2019
Retrieved from:
http://www.strategosinc.com/just_in_time.htm
Environment Protection Agency (2015) 'Lean Government'.
Retrieved on 6th February 2019
Retrieved from:
Venithz, Udo (2016) 'Lean Management'.
Retrieved on 6th February 2019
Retrieved from:
https://gc21.giz.de/ibt/en/opt/site/ilt/ibt/regionalportale/sadc/downloads/lean_management.pdf
Eku (2016) 'An Introduction Lean Management'.
Retrieved on 6th February 2019
Retrieved from:
https://safetymanagement.eku.edu/blog/an-introduction-to-lean-management/
Teich, Sorin (2013) 'Lean Management—The Journey from Toyota to Healthcare'.
Retrieved on 6th February 2019
Retrieved from:
https://www.ncbi.nlm.nih.gov/pmc/articles/PMC3678835/
Calderone, Len (2013) 'Benefits Of Lean Manufacturing'.
Retrieved on 6th February 2019
Retrieved from:
https://www.manufacturingtomorrow.com/article/2018/02/the-benefits-of-lean-manufacturing/10957
Marsmane, Dean (2019) 'All About 5S: Definitions and Benefits For Today's Manufacturers'.
Retrieved on 6th February 2019
Retrieved from:
https://www.qualitymag.com/keywords/3084-lean-manufacturing
Wikipedia 'TNT Express'
Retrieved on 6th February 2019
Retrieved from:
https://en.wikipedia.org/wiki/TNT_Express
Six Sigma (2017) 'Southwest Airlines: Prioritizing Customer Service with Six Sigma'.
Retrieved on 6th February 2019
Retrieved from:
https://www.6sigma.us/customer-service/southwest-airlines-prioritizing-customer-service-six-sigma/
Thomson, Bob (2013) 'Lean, Not Mean — 3 Reasons Why Southwest Wins with a Culture that Empowers Employee'.
Retrieved on 6th February 2019
Retrieved from:
http://customerthink.com/lean_not_mean_how_southwest_wins_with_a_culture_that_empowers_employees/
Thomson, Bob (2014) 'The Lean Southwest Airlines'.
Retrieved on 6th February 2019
Retrieved from:
http://cmuscm.blogspot.com/2014/09/the-lean-southwest-airlines.html
Looking for best Operation Management Assignment Help. Whatsapp us at +16469488918 or chat with our chat representative showing on lower right corner or order from here. You can also take help from our Live Assignment helper for any exam or live assignment related assistance.