QUESTION
Need
two
three figures and diagram in analysis, high level analysis
Comments: Harvard Business case study:
Two

Ways to Fly

South

: Lan Airlines and Southwest Airlines
I. Executive summary
II. Statement of problem, opportunity and objectives
III. Analysis of the situation
IV. Identification and evaluation of alternatives
V. Decision, course of action, and implementation
ANSWER
Table of Contents
Executive Summary
Issues and Opportunities for the companies
Problem Statement
Opportunity
Objective
Problem Analysis
Current Situation
Financial Perspective
Operational Perspective
Alternatives
Recommendations
References
Executive Summary
The given case describes the competitive advantage of two different airlines and how they have achieved sustainable profit in the longer term. Southwest Airlines was formed in 1967 with an idea to offer the lowest possible fares on direct short-haul routes of US. Their low-cost differentiation strategy led them to become one of the largest airlines in the country. Dedicated employees with a different but fun-loving support system formed the basis of their success. They used a homogeneous point-to-point fleet system with their main focus on achieving high operational efficiency with lower turnaround time and satisfied customers. Lan Airlines was established in 1929, and it operated for both passenger and cargo business, maintaining a proper coherence between the two revenue generating businesses. They started with Chile, and further kept on expanding internationally to America, Europe and Asia-Pacific. They consisted of economy, business, and first class seats for the customers.
The airline market has been drastically changing over the years and the consumer perception has been the center of focus for the airlines. Amidst all this, both these airlines face difficulties which they need to solve at the earliest. Sustaining the existing business model and hedging financial instruments for ever increasing jet fuel costs are the two most important problems for the airlines. High bargaining power of customers and high industry rivalry are the two main forces in the airline industry, which these companies need to tackle.
Southwest Airlines owns a major chunk of its fleets, whereas Lan Airlines focuses on leasing fleets for their business. Lan Airlines focuses on delivering high-quality service in both the passenger and cargo businesses, whereas Southwest Airlines is famous for its unique in-flight service and experience for customers. Their operating and advertising expenses also varies a lot depending upon their target customer segment.
Southwest Airlines needs to continue its controlled expansion strategy and providing attractive additional benefits for its dedicated employees. In the long term, they should further expand to other countries with a proper analysis for the location. Maintaining their "Luv culture" model is going to be difficult for the international airlines market. Lan Airlines should first hedge its financial instruments for jet fuel cost, as its business is getting affected due to the incremental jet fuel costs over the years. They also need to find a correlational pattern between their cargo and passenger business at all of their operational destinations.
Issues and Opportunities for the companies
Problem Statement
Southwest Airlines – How to maintain the strategic coherence of its low cost differentiation strategy and how to make it sustainable in the long term
Lan Airlines – How to maintain the integration of cargo business with the passenger business and sustain profitability in the long run
Opportunity
Southwest Airlines – Price differentiation has already given an upper hand as compared to the competitors and they are the market leaders for domestic passengers of the United States. They can leverage this competitive advantage to further expand their operations in the US and internationally.
Lan Airlines – The jet fuel cost is already impacting their business and the costs are increasing drastically year over year. They can engage in hedging financial instruments for jet fuel and increase their fuel efficiency.
Objective
Southwest Airlines – Their objective is to provide highest quality of customer service through friendly, reliable, and low-cost travel.
Lan Airlines – Their objective is to expand globally and become the largest Latin American airline in the world.
Problem Analysis
Southwest Airlines follows the low-cost differentiation strategy and they believe in providing customer focused services with some added fun elements. The company has always relied upon its people for carrying out most of its cost and time saving activities. Their employees' dedication towards providing the best customer service has been the differentiating factor for them over the years. Maintaining the same amount of enthusiasm among the workforce across the places is going to be very difficult for them. Selection procedure of employees and the cultural fit with the existing organizational structure are going to be the two most important problems for them to solve, if they want to be sustainable in the long term.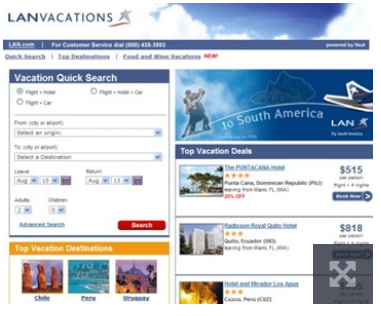 Lan Airlines has been one of the leading full-service airlines in Latin America. It follows an integrated strategy of cargo and passenger business. They have always tried to maximize the cargo weight and space in the passenger aircrafts and increase the revenue generated per flight. They follow competitive pricing strategy, even though they don't employ a low-cost philosophy. They maintain a low-cost structure through high use of their aircraft, but their dependence on low cost fuel has led them suffer due to increasing jet fuel cost over the years. They need to hedge their financial instruments for jet fuel and increasing the overall fuel efficiency. Cargo and passenger business integration do not follow a similar pattern for different routes, which is why their predictive pricing and demand for tickets can suffer a lot. The company has not been able to customize their service and segment their market based on the passenger pattern mapping due to lack of relevant data.
Current Situation
Financial Perspective
The passenger segment for Southwest Airlines, which is their largest segment, has showed an increase of 15.9% in revenue YoY for the year 2004-05 as compared to 9.4% for the year 2003-04. The company has reduced its salaries, wages, and benefits expense for around 2% in the year 2005 as compared to the last two years. They have reduced their long-term debt in 2005, but their current liabilities have increased drastically due to which their total liabilities have spiked up. This has been due to their increased leases of aircrafts and cash equivalents in hand for increasing working capital. Their current assets have increased around 66% YoY in 2005. Their share price returns have fell down from 16.19% in 2003 to 1.11% in 2005.

The financial performance of Lan Airlines has been consistent for the last 2-3 years in terms of Operating revenues generated and expenses spent by the company. The most worrying factor in their Profit & Loss statement is the increasing expense of aircraft fuel (It has increased around 147% over the last two years). Their passenger segment has increased at a higher rate than their cargo business segment. The company has reduced its capital-in-hand this year and reduced its long-term debt while increasing its current liabilities. Their share price returns have fluctuated sharply in the last 2-3 years, which shows that the company's performance has been shifting on an irregular basis (-53.05% in 2003, 93.86% in 2004, and 18.62% in 2005).
Financially overall, 2004 has been a dipping year for Southwest Airlines, but a better performing year for Lan Airlines.
Operational Perspective
The operating cost for the Southwest Airlines has increased at almost a constant rate. The jet fuel cost increment has not affected their operating expenses much. However, they have reduced their number of employees as their strategy of reducing their overall expense.
The number of passengers traveling through Lan Airlines has increased over the last two years, and consequently, the company has also increased the number of employees. However, their operating cost increment is more attributed to its response to the increasing fuel cost, which has almost doubled in last two years. Their cargo business (in terms of weight carried) has dropped from 19.35% YoY in 2004 to 4.5% YoY in 2005. Operational coherence and integration between the cargo and passenger segment seem to have increased complexity for the company.
Alternatives
Southwest Airlines have always relied on their employees for minimizing costs and improving efficiency. They can increase their number of domestic airports for flight take-offs and landings, and consequently increase their employees. Though their operating cost will increase, but they will have a higher market share for domestic passengers. Their hedging technique for jet fuel have paid them well, but this can be a double edged sword in case of sudden change in demand/supply of jet fuel. They can also go for international expansion keeping the same operational strategy. They can also utilize their cultural perspectives of American region wise in which they are operating.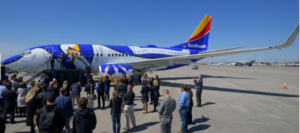 Lan Airlines have expanded from Chile to other countries and provided all types of classes in aircraft. They should first reduce their dependency on jet fuel cost fluctuations. They can go for only cargo cum passenger aircrafts and remove only cargo aircrafts completely. This could help them better perform in the industry.
Recommendations
Southwest Airlines should continue to target economy class at this moment, but they should try to expand their operational region in America and even other countries, with their main focus on maintaining happy and satisfied employees as their basis for efficient business. Lan Airlines should continue their integrated cargo and passenger business, but they should focus more towards passenger segment as it has been growing at a faster pace than the cargo business. Their comparatively low cost structure with different cargo carrying models have proved to be their main success factor. They should increase their e-ticketing facilities and reduce their dependency over the travel agents, which will lower down its commission expenses and they can also reduce the no of employees. They need to continue partnering with other small airlines to form a one-world alliance airline.
References
1. Robert Thomas, 2002 Aug 23, Southwest Airlines reduces its highest fares 25%, Bloomberg
2. Chris Isidore, 2002 Dec 09, Attack of the low-fare airlines, CNN Money
3. Matthews, 2005 Jan 03, LAN Airlines starts operations to Pucon Chile, Market Wired
4. Richard S. Allen, 2006 Dec, Linking strategic practices and organizational performance to Porter's generic strategies, Emerald Insight
5. Charles W. L. Hill, 1988 Jul 01, Differentiation Versus Low Cost or Differentiation and Low Cost: A Contingency Framework, Academy of Management
6. Kenneth L. Bernhardt, 2000 Feb, A Longitudinal Analysis of Satisfaction and Profitability, Science Direct
Looking for best Case Study Assignment Help. Whatsapp us at +16469488918 or chat with our chat representative showing on lower right corner or order from here. You can also take help from our Live Assignment helper for any exam or live assignment related assistance.